Blog
Rapidly approaching
US

Federal Government recordkeeping deadlines
I recently was invited to join in a webinar jointly hosted by Preservica and Deloitte entitled ​"Transition to Electronic Government: Practical Advice from the Field," where I had the chance to highlight several recent US federal government initiatives that I believe should be of great interest to records managers and archivists practicing anywhere in the public sector. I wish to recap here a couple of the points I made during the webinar.
There are two ​"looming" deadlines on the horizon for electronic government at the Federal level. First, in accordance with a jointly-issued memorandum (M‑19 – 21) the Office of Management and Budget (OMB) and the Archivist of the United States have required agencies by December 31, 2019, to manage in electronic formats all of their born-digital records appraised as ​"permanent," for eventual transfer and accessioning to the National Archives and Records Administration (NARA). In other words, no more ​"printing to paper" as the official default recordkeeping medium for born-digital permanent records.
And second, the M‑19 – 21 memo sets a December 31, 2022 deadline after which NARA will not accept legacy paper records in any form. For permanent records, that means not only born-digital records will be accessioned electronically, but also that all legacy paper records appraised as permanent records must be digitized before accessioning into NARA's holdings after that date.
In other words, as of the end of 2022, NARA will view its future as being solely a digital repository of the Nation's records, with only legacy paper created prior to that date continuing to be preserved in headquarters, regional archives, and federal records centers. This is a sea-change that heralds in an era of long-term electronic preservation, not only at NARA but at federal agencies themselves. For many types of government records that must be retained for decades but are still classified as ​"temporary," agencies will need to develop coherent strategies for long-term preservation of their records in electronic form.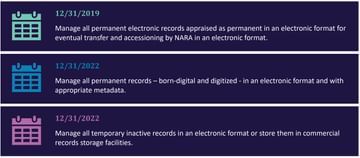 I also took a moment during the webinar to highlight a second OMB Memorandum (M‑19 – 23), issued to provide guidance to agencies in implementing aspects of the new Foundations for Evidence-Based Policymaking Act of 2018. The Evidence Act requires each agency to appoint a Chief Data Officer (CDO) and creates a government-wide CDO council. The OMB Memorandum goes further in requiring that agency-designated CDOs take the lead in participating in a newly created Data Governance Body at each agency, whose purpose will include setting and enforcing priorities for the each agency managing data as a strategic asset. In my opinion, the OMB guidance is a welcome step towards embracing information governance as a discipline, and I look forward to seeing how agencies will go about implementing this new detailed guidance. I also believe it could serve as a model for developing more mature approaches to information governance in other public sector institutions.
These developments in the US federal sector signal the fact that public sector institutions increasingly need strategic thinking and capability-building to ensure the long-term preservation of their electronic record holdings.
To view the full recording of the webinar ​"Transition to Electronic Government: Practical Advice from the Field," please follow this link.