Events & conferences
AIIM

Forum Europe

2022
22 - 23 Jun 2022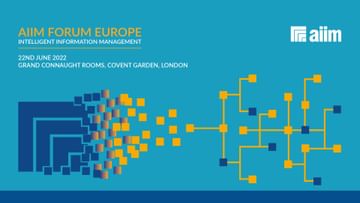 We're excited to be exhibiting at this year's AIIM Forum Europe on 22nd June 2022!
Visit the Preservica team at our stand and be sure to join our session with Gareth Aitken, VP Commercial Strategy at Preservica at 12:45pm. This session will cover:
Incorporating the Preservation of Long-term & Permanent records into your Microsoft 365 IG Program
Gareth Aitken, VP Commercial Strategy, 12.45pm
With the shift from legacy systems to Microsoft 365, automating the governance & preservation of long-term records is required to ensure archived information is always readable and accessible. Learning Outcomes:
1): Why organisations need to protect long-term information from legacy systems
2): How to prevent critical information loss and meet compliance
3): The benefits of an embedded archive that automatically keeps your information alive
We look forward to seeing you there! To find out more and register for the event, click the link below.