Waddesdon Manor
Learn how the Archive team at Waddesdon are elevating the value the archive with internal and external stakeholders, providing wider online access to the growing digital collection and simplifying the day-to-day curation and management of digital assets.
Elevating the value of the digital archives at Waddesdon Manor
We speak to Catherine Taylor, Head Archivist at the Waddesdon Manor Archive in Buckinghamshire, UK. This amazing purpose-built archive, houses a wide range of unique historical and institutional business records, connected with the Estate and the Rothschild family.
We discussed how Preservica's cloud-hosted digital preservation software is enabling Catherine and her small team to achieve more: elevating the value the archive with internal and external stakeholders, providing wider online access to the growing digital collection and simplifying the day-to-day curation and management of digital assets.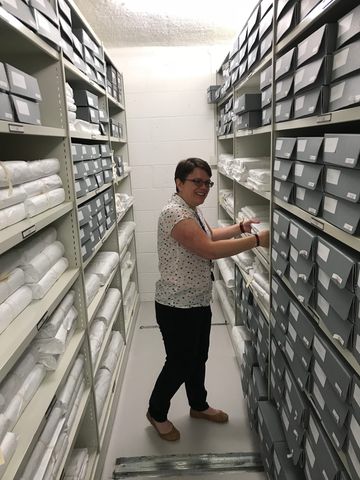 Catherine Taylor, Head Archivist at The Waddesdon Archive in Buckinghamshire, UK
Waddesdon – a diverse archive
Catherine started by telling me a little about the archive, which brings together an incredible array of records and material relating to the history of Waddesdon Manor, the Waddesdon Estate and the members of the Rothschild family who have owned and managed Waddesdon from 1874 until the present day.
The archives also house physical and digital artefacts across a wide range of subjects including art and horticulture, social, agricultural and wine history, 19th century estate management, the history and politics of Israel, and the history of the art market (the archive holds the business archives of P & D Colnaghi Ltd art dealers, one of the oldest in the UK).
These diverse holdings reflect the wide and varied interests of the Rothschild family, but with this comes the challenge of not only managing physical artefacts but also a rapidly growing digital collection of both digitised and born-digital materials.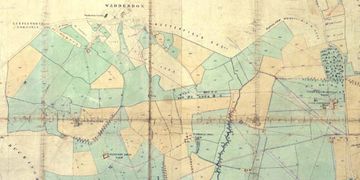 Map showing the Waddesdon Estate
Organisation and access: challenges for the archiving team
With digital content approaching around 3 TB, Catherine's team were faced with a challenge. Much of the content was spread across the institution on shared drives, SharePoint sites and removeable media making it susceptible to degradation, corruption and file format obsolescence. This included born-digital content from up to 20 years ago, such as emails and documents created in the 1990s in WordPerfect or run on old versions of Windows.

In addition, this also made it difficult to properly manage copyright issues for the thousands of digital images held, and more importantly making the overall digital collection accessible online and easy to search.
Catherine saw the need for a system to properly preserve and protect these valuable digital artefacts, but also saw the opportunity to elevate the value of the archive with senior stakeholders, including Waddesdon's CEO, who is often faced with the challenge of finding and accessing Trustee board minutes, land ownership records or costings for previous projects. Another key stakeholder is the Marketing team, who rely on the Archives to search for image and associated rights for use in promotional campaign. With secure internal access to vital institutional records Catherine is able to provide access to the relevant materials, and records from the past to inform decision-making today.
Improved online discovery will also raise the profile of the archive with external stakeholders including academics and researchers, looking to understand projects the Rothschild family have been involved in including philanthropic work in Israel and Butrint foundation.

Catherine commented: "In my six years with the archive, I've worked hard to make our senior leadership team see the benefits of digital preservation with access, where the past of a historic site informs its present and future. Making digital records and collections easily available, particularly for exhibitions, was an exciting prospect as we looked to acquire a digital preservation system and remains so today."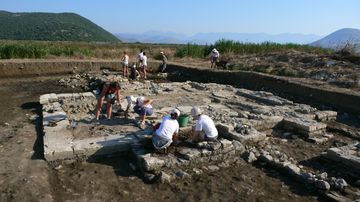 The site of Butrint located on the southwest coast of Albania
Choosing Preservica – universally attractive
The archive team initially considered a DAM (Digital Asset Management) system, but soon realised that this would not provide the core digital preservation capabilities needed to ensure the digital collections were fully protected and accessible into the future.
When Catherine saw that Preservica's cloud-hosted software combined active digital preservation with easy-to-customize internal and external online access she knew this was the right solution for their needs. In addition, Preservica brought other elements together in a single platform, such as the easy ingest and preservation of email, SharePoint and websites as well as flexible management that would allow the team to re-arrange the digital collection and enrich metadata in tune with changing internal and external needs.

Having the whole system hosted, maintained and supported in the cloud also meant that Catherine and the team would not need to worry about managing local IT resources or using a variety of different tools.
Catherine added: "The fact that Preservica is intuitive to use, offers flexibility and is a fully supported solution means that our time and resource is freed up to effect change in Waddesdon's digital preservation approach, and tackle historical frustrations. We never felt that it was a case of 'purchase the product and that's that'. The support available and ease-of-use is enabling us to achieve so much more than we previously could."
Archives and IT – a joint decision to deliver more value

In order to get the most from their digital preservation initiative, Catherine worked closely with her colleague Ellie Burgess, Head of IT and Records, to make sure Preservica would meet the requirements of Waddesdon Manor's key stakeholders and be straightforward to deploy and use.

Ellie said: "Prior to Preservica, we had a document management system that did not meet the core requirement of protecting our digital assets. It was exciting to have the chance to adopt Preservica and open up that possibility, while also integrating seamlessly with our existing IT set-up. Using Preservica meant we could consolidate key digital archiving and preservation functions into one system without needing to worry about managing multiple complex IT systems."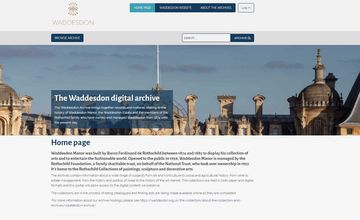 Waddesdon Archives public access site
Taking care of the heavy lifting
The introduction of bulk metadata editing in Preservica's v5.10 product release was especially welcome for Catherine and Ellie, they had voted for this features at a Preservica user group meeting the previous year. With such a vast and dynamic archive, the team are continuously updating metadata entries across their collections. This latest feature enables them to operate at scale and takes care of the 'heavy lifting'. Catherine added, "it will be particularly useful for adding credit lines and copyright statements to images as well as adding data about creators to groups of records in the institutional archive."

"Being part of the user community is of great value to myself and Ellie", commented Catherine. "It provides a collaborative environment to meet with other archivists and collections managers where we can exchange experiences and share best practice, as well as influence the future direction of the product and vote on product features that are important to us."

The future is in the past at the Waddesdon Archives

In 2018 and beyond, Catherine and her archiving team plan to use Preservica to further elevate the value of the Waddesdon Archives through increased internal and public access. This will mean greater access to both historical as well as institutional records. For example, the archaeological findings of the Butrint Foundation project will be opened up, and more governance records will be made securely accessible to the Waddeson Manor management team.

Catherine concluded: "One of the things I'm most excited about is our CEO directly seeing value in the archive through increased access to decision-making records. There are institutional documents such as trustees meeting minutes that support with management today. It is great that our CEO will have these records at her finger tips, providing access on demand."

"Preservica is helping us reach that, and many other, goals."
Visit the Waddesdon Archive digital repository
Discover other examples of Archivists and Collection managers achieving more in digital preservation