Preservica's Enterprise Edition Now Transactable in Microsoft Azure Marketplace
Innovative Active Digital Preservation™ archiving solution is now available for direct purchase by customers and partners through the Microsoft Azure Marketplace, offering the security, scalability and reliability of Azure to ensure critical long-term digital records are kept secure and accessible over decades.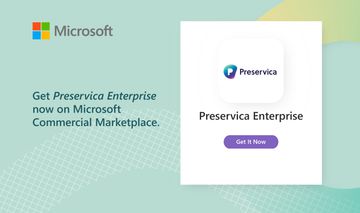 BOSTON, MA, OXFORD, UK, NOVEMBER 7, 2023 – Preservica, a global leader in Active Digital Preservation™ archiving, today announced that their enterprise-grade digital preservation and secure access solution, Enterprise edition, is officially available as a transactable application in the Microsoft Azure Marketplace, an online marketplace providing applications and services for use on Azure. Preservica customers can now take advantage of the productive and trusted Azure cloud platform, and its streamlined deployment and management.
Jake Zborowski, General Manager, Microsoft Azure Platform at Microsoft Corp. said, "We're pleased to welcome Preservica to the Microsoft Azure Marketplace, which gives our partners great exposure to cloud customers around the globe. Azure Marketplace offers world-class quality experiences from global trusted partners with solutions tested to work seamlessly with Azure."
Purpose-designed for the most demanding compliance, security, integration and scalability needs, Preservica's Enterprise edition takes information archiving to the next level redefining the way high-value digital records are kept secure and accessible over decades. Large financial institutions, central and local government organizations and major brands are already utilizing Preservica's Enterprise edition on Microsoft Azure to protect high-value long-term records.
The solution includes advanced security features, webhook APIs for integration with AI and Machine Learning services and Preservica's unique Active Digital Preservation™ software that eliminates data obsolescence and compliance risk by automatically transforming high-value records into always readable and actionable file formats, enabling organizations to meet regulatory, FOI, brand reputation and knowledge reuse needs with confidence.
Moira Edwards, Vice President of Channels and Alliances at Preservica said, "This major milestone demonstrates the important and strengthening relationship between Preservica and Microsoft. This partnership offers Enterprise edition customers a secure and robust globally available environment."
The Azure Marketplace is an online market for buying and selling cloud solutions certified to run on Azure. The Azure Marketplace helps connect companies seeking innovative, cloud-based solutions with partners who have developed solutions that are ready to use.
Learn more about Preservica Enterprise edition for Azure.

About Preservica
Preservica is transforming the way organizations around the world protect and future-proof critical long-term digital information. Available in the cloud (SaaS) or on-premise, our award-winning Active Digital Preservation™ archiving software has been designed from the ground up to tackle the unique challenges of ensuring digital information remains accessible and trustworthy over decades.
It's a proven solution that's trusted by thousands of businesses, archives, libraries, museums and government organizations around the world, including the UK National Archives, Texas State Library and Archives, MoMA, Yale and HSBC.
Twitter: @Preservica
LinkedIn: @Preservica
Media Contact
Aleeza Goodman
aleeza@york.ie