Survey reports skills in technology and Digital Preservation will be most desired in the next five years
With the increasing amount of digital content being created and stored every day, the risk of digital information being lost or becoming inaccessible is growing. Archivists' preservation efforts over the next decade will be telling, as digital information becomes even more central to our lives, economies and societies.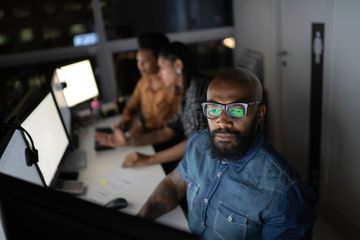 With the increasing amount of digital content being created and stored every day, the risk of digital information being lost or becoming inaccessible is growing. Archivists' preservation efforts over the next decade will be telling, as digital information becomes even more central to our lives, economies and societies.
Ithaka S+R recently published a report based on findings from A*CENSUS II Archives Administrators Survey, which gathered data from 746 of the most senior archives leaders and decision-makers. The report includes data on each archive's budget, collection size, staff recruitment and retention, as well as the impact of the COVID-19 pandemic, DEI efforts, and accessibility practices.
The Role of Technology in Archival Practices
The results of the survey revealed the skills that archivists expect will be most important in the next five years. A staggering 81 percent of archives administrators report that skills related to technology and systems, such as digital asset management and Digital Preservation, are the most important to the staff in their department and will remain so in the coming years. Fifty-six percent of respondents named Digital Preservation as the number one skill they would most like to learn about in the next five years if there were no barriers to obtaining professional development.
Both archivists and administrators recognize more and more the growing need for digital skill sets to support the burgeoning role of digital collections and these overwhelming results only further prove the importance of technology in archival practices.
As part of the survey, administrators were asked how they would allocate funds if they received a 10 percent increase in their department's budget next year. Priorities around Digital Preservation, technology and staffing surfaced, where 50% of administrators would put a budget increase towards Digital Preservation and 36% would put it towards technology and systems.
From the digitization of records and data management to preservation and secure public access and discovery of files — archival repositories must evolve and keep pace with technology to continue serving its users.

The benefits of technology in archival practices
Technology is incredibly useful in archival practices because it helps to address some of the challenges that come with preserving and managing both traditional physical and born-digital archives. The use of technology in archival practices provides numerous benefits, including:
Improved Access and Discovery: Storage-agnostic capabilities give flexibility over where and how information is stored and accessed. The digitization of archives makes it possible to access them from anywhere in the world, increasing the reach and accessibility of archival collections.
Enhanced Preservation and Protection of Records: Digital formats allow for the preservation of records in a secure and stable environment, reducing the risk of physical degradation or loss and future-proofing formats threatened by technological obsolescence.
Increased Productivity and Efficiency: Automated processes and tools help archives to process and manage records more efficiently, freeing up time and resources for other tasks. With scalable storage, quick setup times and no need for complex IT assistance.
Enhanced Discovery: Technology enables archives to provide better search and discovery tools, making it easier for researchers to find the information they need.
Increased Collaboration: Digital archives can facilitate collaboration among archives, libraries and researchers, allowing for the sharing of information and resources on a global scale.
Cost Savings: Digitization can be a cost-effective solution for preserving records in the long term, as it eliminates the need for physical storage and preservation of records.
Technology provides a more flexible, productive and cost-effective solution for preserving archives, making it an attractive option for archives and preservation professionals. Finding the right technology solution for archive preservation requires a thorough understanding of your specific needs and the options available.

Preservica, leading the way to a digitally preserved future
Preservica's industry-leading Digital Preservation technology supports all the functions for ingest, storage, data management, administration, preservation planning and access. And with the recent launch of our new generation of Digital Preservation, we've made it simpler, more powerful and more automated than ever before. See our exciting, new innovations in action during our live demo webinar on Tuesday, March 7.

Preservica's education and training resources accelerate Digital Preservation expertise and skills with its wide range of product collateral including Starter E-Learning courses, case studies, whitepapers, webinar recordings and press releases.
The Preservica user community is rapidly growing and includes information and Digital Preservation professionals from academic institutions, libraries, museums and government organizations that stretch around the globe. Preservica is an active supporter and partner to leading archival organizations such as the Society of American Archivists (SAA), Archives & Records Association (ARA), National Association of Government Archives and Records Administrators (NAGARA) and Council of State Archivists (CoSA).
When knowledge is shared, the community grows. That's why Preservica's Community Hub is the perfect place for users to meet, interact and learn from expert practitioners. Starter users receive direct access to the Preservica Community Hub, which connects thousands of archivists and Digital Preservation practitioners from the Starter community with an open forum to share best practices and access self-service support.
Customers can get their Digital Preservation projects off the ground by using Preservica's free Starter program, helping mitigate the risk of long-term data loss by ensuring high-value content can always be read and trusted over decades. From there, if you find you need more storage options, you can add more with our ultra-low-cost capacity upgrade packages or step up a level to Starter Plus. As your collections grow or when you need more advanced functions, you can seamlessly upgrade to Professional or Enterprise editions and still use the content and metadata you uploaded to Preservica Starter.

Start your Digital Preservation journey today!
Digital archivists and their institutions have a challenging but vitally important job: to preserve and provide access to digitized and born-digital content now and in the future. There has never been a more critical time for archive leaders to implement a Digital Preservation strategy with technology that archivists can trust to support this critical work.
New to Digital Preservation? We recommend checking out our Digital Preservation 101 webpage, which looks at the importance of long-term protection of your organization's assets. When you're ready, start your Digital preservation journey for FREE with the software trusted by thousands of organizations globally.