Using Starter to get buy-in from your stakeholders
Joan Curbow — Reference Librarian and Archivist Buena Vista University Library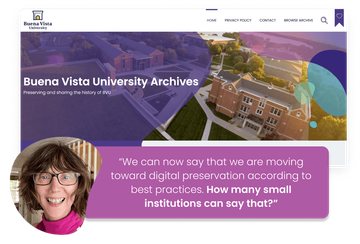 Overcoming
4

common digital preservation challenges with Preservica Starter
Working with limited resources
Gaining consistent buy-in
Future-proofing your records and files
Starting a digital archive with a budget
How did Joan Curbow, librarian and archivist from a small university archive in Iowa, convince her stakeholders to invest in Preservica Starter?

Joan's main challenges were a lack of time and budget, resource restrictions and not having the right tools. With Preservica Starter, Joan was able to get buy-in from her stakeholders and elevate the value of the archive within a couple of months. Here are Joan's top tips:
Find allies and ignite their imagination
Use the access portal to capture stakeholders' imagination
Create collections that tell a story
Help them understand the need for digital preservation
Talk to the
IT

Department in their language
Use the right language to change the conversation, so you can explain what you need and why you need it
The visual helps convince the IT department that Preservica has so much more to offer than Sharepoint
Continue to build
Continue to build interest and support
Keep saying yes to opportunities to share the story
Keep elevating the value of the archives and highlight that you are not just about analog content
Timeline – engaging with Starter and getting buy-in

Share your story with us!
Have a success story to share? Contact us with your pitch, and we may feature your story on the website.