Press release
Preservica congratulates
2019

Emmett Leahy Award winner
Preservica, the market leader in active digital preservation software, is proud to extend its support for the Emmett Leahy Award, and offer congratulations to
2019

winner, Simon Fook-Keung Chu of Hong Kong.

The prestigious global award recognizes outstanding contributions by individuals for their impact in the field of records and information management.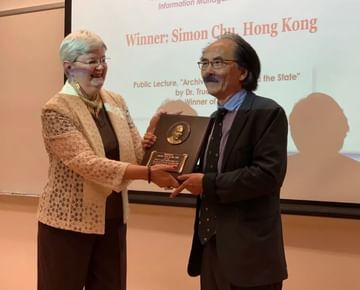 Simon Chu receives 2019 Emmett Leahy award from Trudy Peterson
At a recent award ceremony held in Hong Kong, Simon Chu was honored for his sustained international leadership over the past several decades on issues involving the governance and preservation of archives. This includes his work regarding the protection of rights and the documentary heritage of citizens, and his tireless focus on promoting the enactment of an archives law in Hong Kong. The Emmett Leahy Committee also recognized his efforts at outreach in educating archivists and records managers throughout Asia, as well as the leadership positions he has held in the archival community.
Past winners have included preeminent thought-leaders, educators and practitioners including Trudy Peterson (2018), Richard Marciano (2017), David Giaretta (2012), Charles Dollar (2005), Luciana Duranti (2006), and digital preservation pioneer and author Adrian Brown (2016), to name just a few. (A complete list of past winners can be found at www​.emmet​tleahyaward​.org)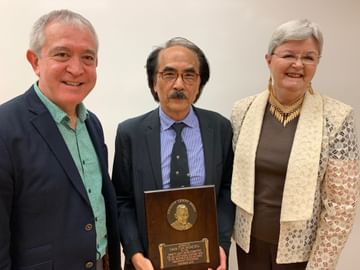 Mike Quinn, CEO Preservica, Simon Chu and Trudy Peterson
Jason R. Baron, a previous winner in 2011 and Chair of the 2019 Emmett Leahy Award Committee said ​"On behalf of the Emmett Leahy Committee, I am delighted that we have honored Simon Chu with this award, who is the first winner of the Emmett Leahy Award in its 52 year history who principally has worked and resided in Asia. I also wish to thank Preservica for its continued support of the Emmett Leahy Award, and am especially pleased that Mike Quinn, CEO of Preservica, was able to participate in the award reception and ceremony."
Mike Quinn, CEO of Preservica, who attended the award ceremony in Hong Kong while visiting customers in the region, adds, ​"We are proud to continue our support for such a prestigious and long-standing award in the field of records and information management. I was especially delighted to be able to take part in the award ceremony and congratulate Simon Chu in person for his advocacy for the creation of a public archive in Hong Kong to house permanently valuable records."
Last year's winner of the Emmett Leahy Award, former U.S. Acting Archivist Trudy Peterson, had the honor of presenting Simon Chu with the award plaque.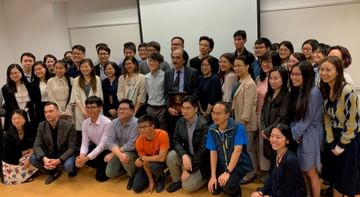 Simon Chu and students of archival science from the Hong Kong University
About the Emmett Leahy Award
The Emmett Leahy Award honors a pioneer in the field of records and information management. The award recognizes an individual whose contributions and outstanding accomplishments have a major impact on the records and information management profession. Established in 1967, this award honors the spirit of innovation, dedication, and excellence in records and information management of Emmett Leahy, an icon in the development of the life cycle approach to managing records and information.
The Award selection is made by the Emmett Leahy Award Committee which consists of the immediate past ten Emmett Leahy Award winners and makes its decisions independently. It is not formally affiliated with any organization or professional association.
About Preservica
Preservica is changing the way organizations around the world protect and future-proof critical long-term digital information. Available in the cloud (SaaS) or on-premise, our award-winning active digital preservation software has been designed from the ground-up to tackle the unique challenges of ensuring digital information remains accessible and trustworthy over decades.
It's a proven solution that's trusted by business, archives, libraries, museums and government organizations around the world — including the UK National Archives, Texas State Library and Archives, MoMA, Yale and HSBC — to name a few. Visit: www​.pre​ser​vi​ca​.com Twitter: @preservica
Media Contacts:
In the UK: For further information, please contact: Edward Clark, eclark@​thecommsco.​com, or call: +44 (0) 203 697 6680
In US and Canada: For further information, please contact: Maria Doyle, maria@​doylestratcomm.​com, or call: 781−964−3536