Press release
City of Red Deer to launch digital archives collection
From the news room of the City of Red Deer, Alberta, CA:
Red Deerians are invited to explore our city's heritage via the digital archives collection that will launch this month on a new web site hosted by Preservica.
The collection includes photos and videos from Red Deer's history that are available online to search, download and use by members of the public for the first time.
More than 9,000 images (out of approximately 150,000 images that exist in the archive collection) are contained in the digitized collection, along with over 200 videos from the mid-1980s to the late 2000s from CHCA television (also known as CKRD and RDTV). These files, publicly accessible online for the first time, will allow residents and history enthusiasts to learn about the city and surrounding community and learn about the people who make or have made Red Deer special.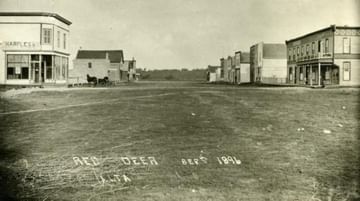 To celebrate the launch of the digital collection, The City of Red Deer is hosting a reception on Tuesday, January 21 2020. Staff will be available to help guests use the site and explore the archival content available.
Digital Archives Collection Launch
Tuesday, January 21, 2020 Public reception: 3 – 5 p.m. Stewart Room, Red Deer Museum + Art Gallery 4525 47A Avenue, Red Deer
"We're excited to launch a digital collection of Red Deer's history to the public," said Darren Kuz, Information Management Supervisor. ​"There are many great community stories and memories contained in the collection that we're pleased to make available online and without user fees."
The collection will continue to grow as more files are added (including at least 800 additional videos that are in the process of being digitized for this purpose). There is no cost to access the collection or use the content.