How do we keep tweets alive forever?
December 15th 2021
7:00 PM EST | 4:00 PM PST | 12:00 AM GMT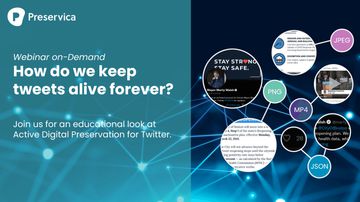 Since its inception in 2006, Twitter has grown to 175 million users worldwide. People are tweeting now more than ever. Historical conversations, announcements, and more are now happening on Twitter – providing an interesting window into how we communicate.

For tweets of permanent public record and those deemed historically valuable, records managers and archivists are now asking:
"How do we keep this tweet alive forever?"
Want to learn more? Watch this recording for a look at Active Digital Preservation for social media. We'll dig deeper into this topic and explore how you can:

Ensure Twitter records can be trusted and read in perpetuity
Find tweets and other related records types in context
Capture social posts directly to ensure authenticity
Enable online transparency for Twitter and other records
Learn why retaining permanent Twitter records forever requires Active Digital Preservation.