Webinars
[Event Series] Incorporating Digital Preservation into Your
DAM

Program
16 Mar 2022 | 3:00 PM GMT | 4:00 PM GMT+1 | 11:00 AM EDT | 8:00 AM PDT | 2:00 AM GMT+11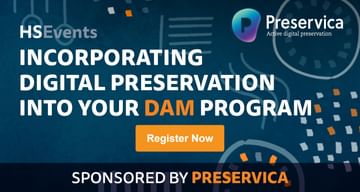 The terms Digital Asset Management and Digital Preservation are often seen as two sides of the same coin. As disciplines and technologies they are quite different, performing distinct but complementary roles. When used in combination, they can lead to greater long-term brand value and asset reuse.
This new 3‑part online education program will use real-life use cases to explore the value of preserving your most valuable brand assets, and how to build a strategy that combines the benefits of both types of systems.
The course will be moderated by Theresa Regli, DAM Industry Strategist, Analyst and Author and will include experts from McDonald's, Yale University and BT.
What you will learn:
What is digital preservation – how is it used – why is it different from

DAM

?
How

DAM

and Digital Preservation can be combined to create long-term brand value and reduce

DAM

clutter
How to ensure the long-term authenticity, integrity and reuse of digital assets
How to use long term digital assets to protect trademarks and power brand storytelling
How to enrich and enhance metadata for long-term asset reuse
How to build a preservation strategy that combines people, process and technology
How to get started preserving your digital assets for free
Registration includes access to all three sessions to view live and on-demand.
Session 1: Preserving Long-Term Digital Assets
Wednesday, March 16 — 8AM PDT / 11AM EDT / 3PM GMT / 4PM CET
Business case and value
Preservation and

DAM

 — why together?
Preservation vs. Archives (physical and digital)
Case study
Moderated by: Theresa Regli
Speaker: Michael Bullington, Senior Archives Manager, McDonald's Corporation
Session 2: Standards and Approaches for Digital Preservation
Wednesday, March 23 — 8AM PDT / 11AM EDT / 3PM GMT / 4PM CET
Metadata
Industry standards
Approaches for preservation projects
Case study
Moderated by: Theresa Regli
Speaker: Euan Cochrane, Digital Preservation Manager, Yale University Library
Session 3: Building a Strategy for Preserving Long-Term Digital Assets
Wednesday, March 30 — 8AM PDT / 11AM EDT / 4PM BST / 5PM CEST
People, process and technology
Auditing your assets
Getting buy-in
Case study
Moderated by: Theresa Regli
Speaker: Anne Archer, Head of Heritage and Archives, BT