Congratulations to Dr. Nancy McGovern for being awarded the
2023

Emmett Leahy Award

Preservica is pleased to announce that Dr. Nancy McGovern is the recipient of the 2023 Emmett Leahy Award. She is recognized for her remarkable commitment to advancing digital records and preservation programs across prestigious institutions.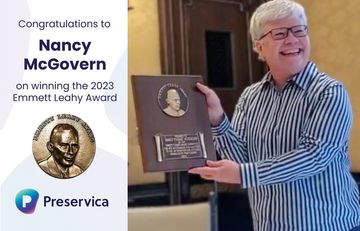 Preservica proudly supports the Emmett Leahy Award and extends its heartfelt congratulations to the 2023 recipient, Dr. Nancy McGovern.
This esteemed international award acknowledges remarkable individual contributions that have made a significant impact in the realm of records and information management.
The Emmett Leahy Committee also acknowledged the global impact of her work. She has been instrumental in empowering organizations and individuals worldwide to establish sustainable programs for preserving digital content. Her contributions include setting and promoting standards-based best practices for digital archives and preservation, as well as conducting research-based initiatives to address gaps in these practices.
Additionally, Dr. McGovern co-founded the Electronic Records section of the Society of American Archivists (SAA) in 1993 and went on to chair the SAA Research Forum from 2007 to 2022. She has also served as the Society's president, contributing significantly to its growth and development. Her recognition as a Digital Preservation Pioneer by the National Digital Information Infrastructure Preservation Program (NDIIPP) in 2009 underscores her significant contributions to the field. Her ongoing collaboration with leaders in South Africa has been instrumental in the development and implementation of best practices for digital curation and preservation.
Furthermore, Dr. McGovern's involvement with the International Council on Archives (ICA) has resulted in the creation of impactful online courses, such as "Managing Digital Archives," which has global reach. Her co-development of the Digital Preservation Management workshop and online tutorial has empowered practitioners and academic programs alike, with over 60 offerings to attendees from more than 30 countries since 2003.
Recent past winners have included distinguished thought leaders, educators and practitioners including Joan Boadas i Raset (2022), Laura Millar (2021), Richard Marciano (2017), and digital preservation steward and author Adrian Brown (2016), to name a few. (A complete list of past winners can be found at www.emmettleahyaward.org)
Dr. Trudy Peterson, Chair, Emmett Leahy Award Committee who presented the award, said, "On behalf of the Emmett Leahy Committee, I am delighted to present the Emmett Leahy Award to Dr. McGovern, a true guardian of our digital heritage. Her unwavering dedication to the preservation of the world's digital records has been critical in safeguarding the records of our age. Dr. McGovern's tireless service to the world's digital documentary heritage has not only ensured that our history endures but also serves as an inspiration to all who value the importance of preserving the past for the generations of the future."
Mike Quinn, CEO of Preservica adds, "We take immense pride in our ongoing support for this esteemed and enduring award. I extend my heartfelt congratulations to Dr. McGovern for her steadfast dedication and transformative contributions, which have profoundly left a permanent and enduring legacy on the world of digital preservation and archiving."


About the Emmett Leahy Award
The Emmett Leahy Award honors a pioneer in the field of records and information management. The award recognizes an individual whose contributions and outstanding accomplishments have a major impact on the records and information management profession. Established in 1967, this award honors the spirit of innovation, dedication, and excellence in records and information management of Emmett Leahy, an icon in the development of the life cycle approach to managing records and information.
The Award selection is made by the Emmett Leahy Award Committee which consists of the immediate past ten Emmett Leahy Award winners and makes its decisions independently. It is not formally affiliated with any organization or professional association.