Blog
A day in the life of a county archivist
When I first started working at the Limestone County Archives in 2010, the number one question I got was, ​"So what do you do in there all day, anyway?"
Over the following decade, the answer to that question has basically remained the same: ​"I preserve and share our community's history!" But two major things have changed:
1) Our methods have evolved from a focus on physical preservation, access, and outreach to digital versions of those activities; and
2) I don't get asked that question so much anymore. Now typical questions sound more like, ​"I need to know something important about my home, my community, or my family, and I know you are the person to ask. Will you help me?"
That evolution has taken place day by day, a little at a time, as I work to serve my community and ensure that the vital government records, photographs, and historic materials that comprise my county's heritage continues to enlighten, inform, and inspire those who delve into it for generations to come.
So what do I do in there all day, anyway? Well, I'm glad you asked! Join me, and let's take a look at a typical day in the life of the Limestone County Archivist.
8:00 a.m. — I can hear the bells of the First Methodist Church of Athens downtown chiming the hour as I unlock the door of the 1905 train depot that houses the Limestone County Archives and step inside. It's gray and cold outside today, so I flip on the electric fireplace in the reading room before booting up the scanners and computers. Patrons like to come into the warmth and lose themselves in history on a day like today.
I sit down with April, the Assistant Archivist, to make sure we're on the same page. Her plan for the day is to work between patrons to carefully scan the fragile pages of the 1819 county commission minute book. Soon it will be ready to upload to our Preservica Starter site for digital preservation and online access.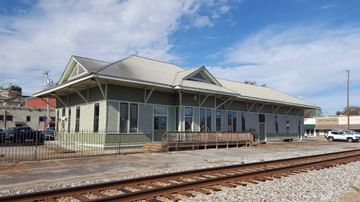 8:30 a.m. — Dion, longtime news reporter for the local TV station, texts me, ​"Hey, looking for that good story, let me know if you've got anything." I tell him I just put the finishing touches on a physical and digital exhibit, using records and photos from our collection, to highlight and celebrate the centennial of women's suffrage in America. ​"I'll be there in an hour," he says.
9:00 a.m. — I email back Ms. Goodloe from Brookhill Elementary School to hash out details about our upcoming Zoom session. They're focusing on what Athens was like 100 years ago, and I have just the tool for her! I send her the link to our Preservica Starter site, and tell her to search ​"1920." ​"You'll be able to see all the photos and records we have on the site for then, and share them with your class, too," I write.
9:30 a.m. — Dion does a quick interview in the exhibit space, and then when the camera is off I talk with Dion a little more about his upcoming documentary about the Scottsboro Boys case. ​"I'll be back later to do some more research," he says. ​"Make sure to check our online index and records first," I tell him. ​"You may be able to find a lot of what you're looking for there."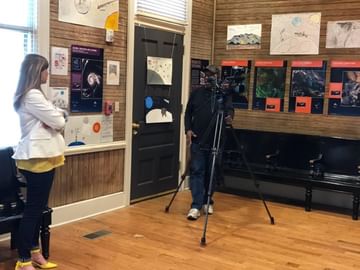 10:00 a.m. — Time to focus on ingesting our collection of historic postcards into our Preservica Starter site. Most of the postcards have already been scanned, but they are just hanging out on our server, separated from their metadata and not digitally preserved. I drag and drop them into our Postcard Collection folder on Starter, easy peasy.
But the metadata is where the real work — and fun — is on my end. I pore over postcards to determine their dates and enter descriptions, subjects, time frames and more details to make it easier for both archivists and our patrons to find what we're looking for. So many of these postcards will be great to share with Ms. Goodloe's class!
11:00 a.m. - Mr. Maples comes in with a question: ​"Who was the first settler on my land?" We take a look at the map and then the deed abstracts, and finally the scanned deeds online, to find the answer: Levi Gilbert, who obtained the U.S. land grant in 1846. We print him a copy of the deed to take home with him. ​"I can't wait to show my wife!" he says.
11:30 a.m. — The Athens Mayor's Youth Commission arrives for their annual tour of the County Archives. I tell these high school students stories and answer questions about our building and our community history; I walk them through our new exhibit; and I take them to the back room to show them some of the gems of our collection, like the deed to the City of Athens and the original oil portrait of the town founder named on the deed. But what makes them fall out laughing is the picture of the 1939 Athens High School basketball team in their super short shorts!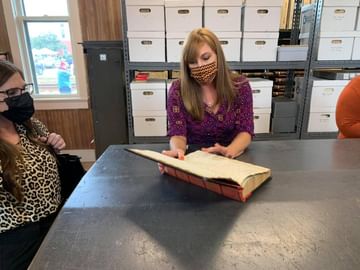 12:30 p.m. — Lunchtime!
1:30 p.m. — I head straight from lunch over to Ms. Harrison's house, where her great-niece is going through all the papers left behind when she went into the nursing home. Ms. Harrison spent years researching local families' genealogy, and by the time I leave the house, I have six acid-free boxes full of books and folders loaded in the back of my Honda Pilot.
2:30 p.m. — Ms. Byrd comes in to research her family and she has brought a present! She hands me a sheet on which she has cataloged an entire historic African American cemetery that was never included in the county cemetery books, as well as another stack of African American funeral programs to add to our collection. We begin entering the cemetery info into our obituary database and scanning the funeral programs to add to our digital collection and obituary database as well.
3:30 p.m. — County Commissioner Townsend drops by. ​"Do you know when and where the county crews unearthed that old iron casket in my district years ago?" We search the index. ​"Looks like there's an article in the Alabama Courier in April of 1954… oh and hey, we have a few photos and county commission minutes from that time, too. Would you like to take a look at the records?"
4:00 p.m. — Mr. Townsend leaves with his information, and I head to the back room with a roll of book repair tape. One of the spines is about to fall off an old tax book, and that won't do.
4:15 p.m. — Time to start putting away, logging out, and shutting everything down.
4:30 p.m. — Quitting time! The Methodist Church bell chimes once for the bottom of the hour as we turn off the lights, lock all the doors, and say goodbye for the day to the Limestone County Archives. I'm so glad you joined us for this day!
You can view the Limestone County Digital Archives here. To learn more about Preservica Starter and to sign-up for FREE please click here.