Blog
Digital Archivist achieves more at the Philadelphia Museum of Art
Real-world digital preservation blog series: The Philadelphia Museum of Art
Marge Huang, Digital Archivist at the Philadelphia Museum of Art explains how Preservica's digital preservation system, hosted in the cloud, enables her to get more accomplished and be more successful in her role.
We recently caught up with Marge Huang, Digital Archivist at the Museum, who gave us a sneak peek of what happens behind the scenes in terms of digital preservation.
The Philadelphia Museum of Art houses a world-renowned collection in a landmark building, with a goal to bring the arts to life. The successful operation of the Museum depends on all the things that happen behind the scenes.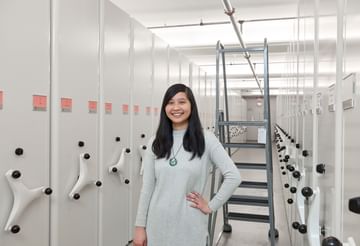 Marge in the Philadelphia Museum of Art archive
Museum's institutional record is becoming largely electronic

Marge explains, ​"It came to a point where we couldn't ignore the fact that many of our institutional records are now electronic. Emails are being sent instead of letters, Word documents are being created instead of manuscripts. We came to the realization that we would be missing crucial parts of our story if we didn't address digital preservation." Before this, the Archives did not collect electronic institutional records, and realized this was a gap in their institutional memory.
The work that Marge and her team do allows staff and outside researchers to tell the stories of the Museum's art collections by managing its institutional record. With Preservica, the institutional records they are preserving include audiovisual files, images, museum-related websites, and they are beginning to collect email accounts. They use Preservica's Upload Wizard to make the process simple. The Preservica digital preservation system allows Marge to get more done and focus on being an archivist.
Although the Museum is still at the start of ingesting institutional records, Marge anticipates that this will help make electronic records more findable in the future. The records the Museum is storing in Preservica are important because they represent the first time they have been able to accept certain types of material into the Archives such as web archives and email accounts. They also store deliverables from various digitization projects in Preservica. In this way, they are protecting the significant financial investment they have made to digitize and/​or migrate those materials.

Marge uses Preservica's Upload Wizard to easily contribute records to her collections in Preservica
Easy-to-use Preservica is perfect for the Digital Archivist
"To me, Preservica was really a one-of-a-kind compared to all the other solutions," states Marge. ​"Other solutions had a lot of open source software, which we just don't have the technical capacity to handle on our own here."
Another benefit is the fact that Heritrix, the web crawler tool Marge depends on, was already built into Preservica. That was another piece of the puzzle the Museum's Library and Archives team didn't have to work out because it came packaged with Preservica. The Museum also uses ArchivesSpace and anticipates syncing it with Preservica soon.
Marge concludes, ​"Preservica Cloud Edition really does seem like the only out-of-the-box solution that could be easily implemented by one person without any heavy reliance on our IT department. In addition, Preservica's support and training is excellent! I'm always surprised at how promptly my tickets are answered. The trainings are great because they include actual hands on exercises."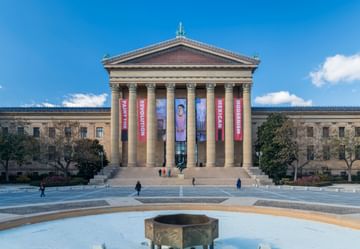 The main museum building was completed in 1928