Blog
From
1945

to

2020

: Showcasing Transport for London stories from one defining year to another
2020. Already a year with a confirmed spot in the history books. Heading into this year, very few could have envisaged the life-changing implications the pandemic has generated across the globe. It has truly been a pivotal moment in our history. However, 2020 also marks the 75th anniversary of one of the most defining and transformative events in recent human history – the end of World War II.
Commemorative work has taken place over the last four years around various WWII anniversaries. In light of the 75th anniversary of the end of the war, it seemed fitting for Transport for London (TfL) to celebrate this landmark. With a plethora of content housed in our archive collection, of course, in an ideal world, we would be holding a physical exhibition to share this diverse material. However, in a strange way, it feels apt that the exhibition is being held virtually, against the odds, thanks to the benefits of living in a modern, digital world. A world which maintains the ability to overcome the ​'unprecedented' circumstances we live in, helping to showcase archives of such an important historical event, and bring people together in the new virtual normality.
Despite being reliant on material that is already available to us digitally this year, TfL already holds a rich set of digitized content. The challenge in hosting this exhibition was in both how to showcase and provide access to this material, while also designating it the respect, integrity and quality it requires. With this task set before us, we looked into how Preservica's Universal Access (UA) solution could be utilised for displaying our WWII digital collections in the virtual exhibition.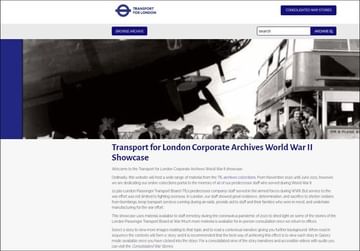 Physical vs digital process
The initial approach to curating the exhibition remained the same as usual – for example, we assessed which items were available, what information they gave us, and the stories being told. After this initial step, we then tackled any digital accessibility issues, and selected the materials suitable for the digital environment we were curating. For example, in a physical exhibition if an article is too dark or fuzzy, we wouldn't do anything to enhance it because it is an original – and we would also be on hand to help those experiencing issues and to explain the items to visitors. However, in this digital world we have decided to use tools to enhance images to help those with visual impairments. We've found that in viewing digital material, people generally have shorter attention spans, contrasted with a physical setting, where they have made the effort to attend and are likely to stay for longer.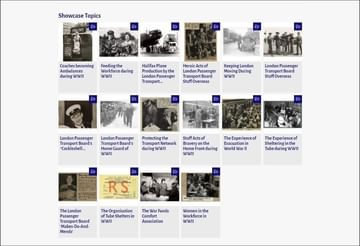 Taking a different approach
This has altered our approach to the exhibition. Without people on hand to answer questions about the material being showcased we have adopted, and are reliant on, speech software to explain any areas of confusion. This has been both incredibly helpful and a time saver but represents a significant challenge in predicting areas of confusion and delivering explanations in a ​'non-patronising' manner. We've dedicated a lot of time to understanding the psychology behind people viewing content in a digital world compared to a physical one.
With Preservica, we are able to create audio histories, with snippets of these recordings being included in UA. This delineates the benefits of going digital and using the UA platform; it becomes natural to play audio within the material and makes it much easier to create a narrative and guide our visitors through the TfL WWII story in a more linear, structured manner.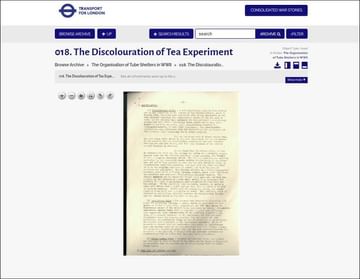 Some ​'lesser-known' highlights in the exhibition
I'm especially excited about the facts and stories that are not quite as well-known, or ones that people wouldn't have come across without this virtual exhibition. I've picked out my own highlights below:
During air raids when people were sheltering in stations, TfL provided refreshment points to serve food and drinks. Our collections revealed that, in true British style, there had been multiple complaints about the colour of the tea that was on offer! We have documentation that outlines how TfL went to the trouble of taking examples of this tea to their research teams in order to figure out how they could make the right colour of tea underground. We even have a dedicated report that was created based on the research!
There are some great reports and graphs demonstrating the sheer volume of people underground. It's astonishing to learn of the processes and organisation that would have been necessary to accommodate for this.
The Cockle Shell Heroes is a film that was made at the time, it documents a group of soldiers that were sent on a secret mission to attach mines to enemy ships. Two of the five came back alive and Winston Churchill made a statement declaring that this helped shorten the war. It turns out one of the survivors later worked for London transport.
These examples just scratch the surface. What's brilliant is that previously unearthed stories are now being told, so the personal aspect of the collection will be magnified for a wider audience than otherwise would've had access.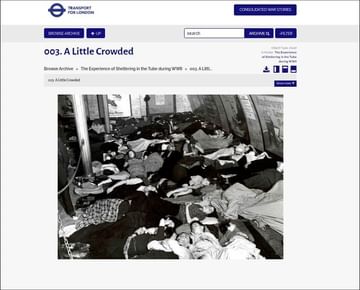 The lasting impact
The material housed in these collections and available on UA will appeal to all walks of life in a manner of ways and for a variety of different reasons. There's a story in there for you too! With the current socio-economic and political uncertainties, there's also a refreshing reassurance about the collection and about helping to bring people together and carry on in challenging times.
In terms of the impact of the exhibition, the site will be dedicated to WWII until July 2021. The lessons learnt in this process will undeniably change how we curate and tailor content for future events. Preservica and the UA solution have been incredibly easy to use, helping us to work at speed and form the exhibition much quicker than we were anticipating and it all links seamlessly into Preservica's active digital preservation platform. This makes it much easier to promote all the various gems of content we maintain, and offers the opportunity to form a continually evolving process, helping us to both reach out to those who may have stories and archives of their own and capture the interests of those who wouldn't normally engage with the archives through remote access.
–
As the war caused dramatic changes to people's livelihoods and how they worked, so too is the pandemic. What transpires looking ahead is the opportunity to combine the physical world with the digital. It is definitely not the end of the digital collection — it is only the beginning!