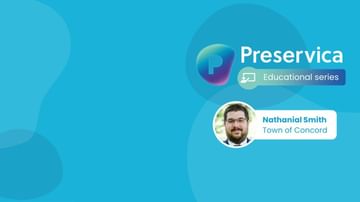 Blog
How to fill a historical records request using scan on-demand and Preservica Starter
Welcome to the ​
"

How we do it" Video Series

If you are a Clerk, Records Manager or Archivist for City or County Government, our practical ​"How we do it" videos are for you! We have compiled a series of videos, from users in City and County Government to share how they quickly and easily perform common electronic records preservation and access tasks with Preservica' s solutions.
How to fill a historical records request using scan on-demand and Preservica Starter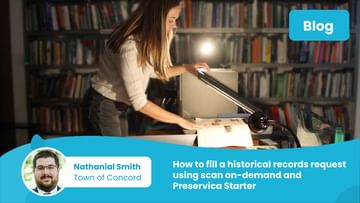 In this video, you can learn an easy, quick way to respond to historical records requests with Massachusetts Town of Concord's Nathanial Smith- Municipal Archivist and Records Manager. He shares how he was able to preserve the program created for the 150th Anniversary of the historical battle of Concord. In this session he shows his process for scan on-demand, preserving digital surrogates of historical records and how he is able to share with the public.
He also talks about some of the challenges he faces and how he handles them including, COVID restrictions, streamlining digital file storage, transforming physical records to be made available electronically, preservation of permanent government records and providing easy access to historical collections via his Preservica public portal.