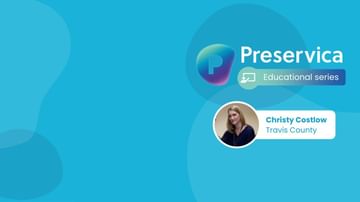 Blog
How to create and share a collection of historical exhibition materials
Welcome to the ​
"

How we do it" Video Series

If you are a Clerk, Records Manager or Archivist for City or County Government, our practical ​"How we do it" videos are for you! We have compiled a series of videos, from users in City and County Government to share how they quickly and easily perform common electronic records preservation and access tasks with Preservica' s solutions.
How to create and share a collection of historical exhibition materials
In this installment of our ​"How we do it" series, Christy Costlow from Travis County, Texas, one of the largest counties in the United States, shares with us one of the projects she used Preservica Starter for; Preserving and extending the life of exhibition materials- in this case, Elected Official photographs.
Christy walks through how her small team was able to share this new archive of Elected official photographs securely via the Preservica Starter public portal, allowing the citizens of Travis county access to these exhibitions. This solution can be used for many other exhibitions beyond county officials. Check out Christy's use case below.