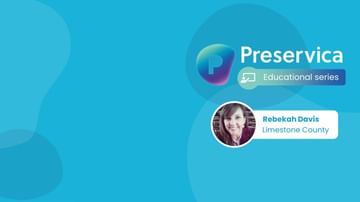 Blog
How to preserve and share the legacy of your county
Welcome to the ​
"

How we do it" Video Series

If you are a Clerk, Records Manager or Archivist for City or County Government, our practical ​"How we do it" videos are for you! We have compiled a series of videos, from users in City and County Government to share how they quickly and easily perform common electronic records preservation and access tasks with Preservica' s solutions.
How to preserve and share the legacy of your county
Archives are treasure troves, full of rich pieces of history. However, the variety of materials can make accessibility a challenge. In this video, Rebekah Davis, Archivist at the Limestone County Archives in Athens, Alabama shows how she's able to overcome this challenge and preserve and share the legacy of her county with her community. You'll learn how leveraging automated workflows and an integrated portal in Starter, enables the community members of Limestone County to self-serve and find the content that they need.
Rebekah shares how this accessibility has unlocked major visibility for the archive, including:
How a local newspaper utilized the archive for historical articles
How members of the community were able to provide feedback through crowdsourcing to improve the record
Watch the video below to join Rebekah as she shares, how to:
"Use the Limestone County Digital Archives to give a history lesson, provide some entertainment – infotainment, if you will ‑and do positive outreach. We had a lot of positive feedback from the community and our County Commissioner."