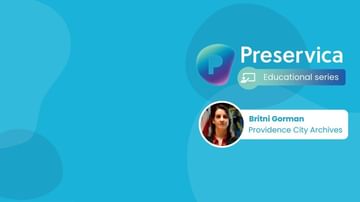 Blog
How to provide easy online access to grantee and grantor indexes
Welcome to the ​
"

How we do it" Video Series

If you are a Clerk, Records Manager or Archivist for City or County Government, our practical ​"How we do it" videos are for you! We have compiled a series of videos, from users in City and County Government to share how they quickly and easily perform common electronic records preservation and access tasks with Preservica' s solutions.
How to provide easy online access to grantee and grantor indexes
Learn a quick way to provide easy online access to Grantee and Grantor Indexes for Title Researchers with Britni Gorman, the Providence City Archives' Deputy Archivist.

In her video, Britni explains how title research requests, like many research requests, can often be a lengthy process to fill. Title Researchers working on legal work for land such as boundary disputes, need to request access to Grantee and Grantor Indexes that the Providence City Archives keeps in books dating from 1647 – 1900s. Researchers are often looking for a certain person within a certain timeframe — this kind of research requires a lot of cross-referencing of the various indexes throughout multiple in-person visits to the archive. Britni notes that this can be an extremely time-consuming process — both for staff and researchers.
This process has become increasingly challenging due to office closures, limited in-person visits, and other restrictions due to COVID.
How did Britni and the Providence City Archives overcome this challenge and streamline the process to allow Title Researchers to self-serve? Watch this video to find out.