Blog
Preservation and public access to the records of over
240

Kentucky state agencies
Real-world digital preservation blog series: The Kentucky Department for Libraries and Archives (
KDLA

)

Beth Shields and Kari May of The Kentucky Department for Libraries and Archives (KDLA) talk about how Preservica's cloud-hosted digital preservation and access software is enabling their small team to meet state mandates and operate at scale – ingesting, processing and providing citizen access to over 1,000 records a week transferred from more than 240 state agencies.
Beth Shields (left) and Kari May (right)
I recently caught up with State Archivist Beth Shields and Electronic Records Branch Manager Kari May at KDLA to learn how they are preserving and providing access to their state's large volumes of important digital assets.
KDLA provides equitable access to quality library and information resources and services and helps state and local government agencies ensure that their work is preserved and made available for public use.
Kentucky was on the forefront of public sector digital preservation efforts, and the State Archives was one of the first to implement Preservica's Cloud Edition in 2012. Since then, new staff, streamlined processes, and advances in Preservica have made government records transfer, preservation and access more efficient and effective.
Active digital preservation and access in the Cloud
Kari commented that the KDLA's two main goals of preservation and access tie into how they are using Preservica today. ​"That's the beauty of Preservica. For us, it's one system. It does everything for us. We ingest records into it, it preserves those, it monitors those. And because it is all cloud-hosted we don't need to worry about local IT resources or having to maintain the software ourselves".
KDLA previously had in-house IT staff, but in recent years state IT resources have been consolidated. Beth states, ​"We needed a solution that was fully supported, and we knew that we couldn't run it in-house on our servers here. So, the Preservica Cloud Edition was crucial to us – as was the technical support that Preservica could offer to us."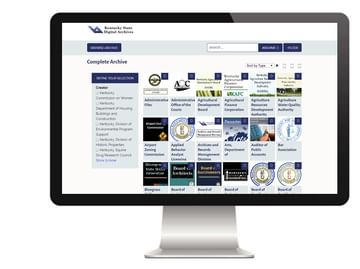 KDLA public access portal powered by Preservica
Access for all Kentuckians

Perhaps the biggest benefit for Kentuckians is the online access to government records. Preservica's Universal Access provides easy, searchable access to images, videos, documents, and other records of archival value. In February 2018, KDLA launched the Kentucky State Digital Archives for enhanced online access for Kentuckians to the digital government records of over 240 state agencies.
Beth comments, ​"A huge change was when Universal Access was added, because we didn't have to go out to another system. We didn't have to link anything else or run two things. The Preservica system does all of that for us, which is a huge component of our strategic and tactical goals."
Some of Beth and Kari's favorite collections include photographs from the Governors' inaugural balls, Kentucky Derby photos, and the collection of First Lady dolls. They are also able to provide online information about the displays in the Kentucky State Capitol building, which change each month. This enables students, history buffs, or anyone else to view these items online. Beth explains, ​"Because Preservica allows us to create virtual collections we can pull these together and point people at them and say, ​'Here's access online, anywhere in the world, so you can see what's in these display cabinets."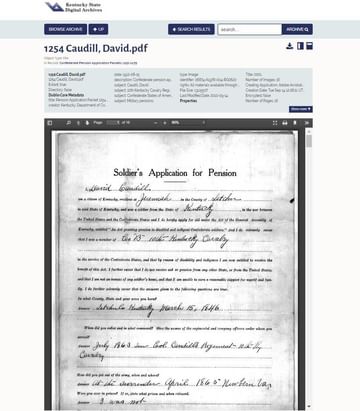 Public access to records
Automated ingest and access is creating a virtuous circle for digital preservation
Beth and Kari were not directly involved in the initial implementation of Preservica, but they've adopted the system and implemented processes to make it even more effective.
Beth comments, ​"Preservica, and in particular Universal Access, is a tool for us to encourage and educate our Records Officers to save important records. It really begins to snowball once they are able to actually see the results and benefits of transferring their records to us."
With the previous DSpace tool, it sometimes took years for records to go into the Archives. With improved access and on-going education, state agencies realize their information is not going into a ​"black hole." And Beth and Kari are hearing positive feedback, especially on the quick turnaround from ingest to being available online. The ability for the public to do keyword and faceted search to easily find what they are looking for is also a real plus.
Kari adds, ​"We originally used a standard ingest and we were doing about 1,000 records a month. Then, we rethought it a little bit, and using Preservica's easy ingest tool we can now bring in about 1,000 records a week at minimum." This is helping to loosen the backlog. As state employees realize they can send more files and larger files, the volume of permanent records transferred to the Archives are increasing.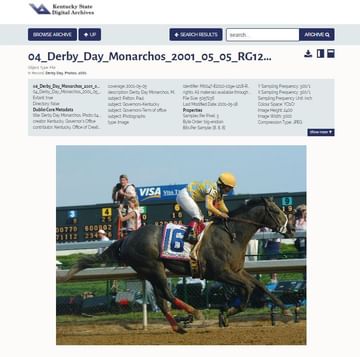 The world famous Kentucky Derby