Preservica educational series — for Libraries
Learn how digital preservation can be simple, powerful and affordable in our educational series for libraries.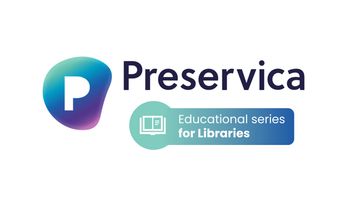 Digital content is fragile and requires preservation actions to be taken to ensure integrity, authenticity, and renderability over time and successive generations of technology and file formats. The ubiquitous nature of digital content as well as the rapid growth of online learning, work, and collaboration platforms is driving unprecedented opportunities for access to archival repositories and collections.
What is digital preservation according to ALA?
Digital preservation combines policies, strategies and actions to ensure the accurate rendering of authenticated content over time, regardless of the challenges of media failure and technological change. Digital preservation applies to both born digital and reformatted content.
Source: http://www.ala.org/alcts/resources/preserv/defdigpres0408

Can digital preservation really be this simple?
With Preservica Starter, Joan Curbow, Reference Librarian and Archivist at Buena Vista University very quickly secured stakeholder buy-in and was able to elevate the value of the library & archive, successfully convincing her stakeholders of the importance of digital preservation in protecting the institution's valuable digital collections for the long-term.
In this first video of our 'Digital Preservation for Libraries' series, Joan discusses:
Why digital preservation is important for libraries
How to talk about digital preservation with your IT department
How Starter enables a lone arranger to achieve more!
New & upcoming time-saving features she's excited for in Starter
"I'm really excited about the upcoming feature to invite contributions to my archive! We can easily send contributors a link so they can submit papers directly into Starter."
Joan Curbow - Reference Librarian and Archivist, Buena Vista University
Can digital preservation really be this powerful?
Nikole Koehlert, Digital Archivist at the Austin History Center needed a digital preservation solution that combined the freedom of a branded portal with the flexibility to scale as their needs changed. Nikole shares why it was important to have a tool that's both easy to use and provides powerful out of the box preservation features. Plus, you'll hear how Nikole and her team were able to easily create hierarchy and metadata structures and leverage the power of digital preservation with Preservica to report to their stakeholders over 18,000 views to their digital repository in just a few months!
In the second video of our 'Digital Preservation for Libraries' series, Nikole discusses the power of digital preservation, including:
What records Austin History Center preserves and why digital preservation is important
How Preservica met their digital preservation requirements
How Preservica helped them to easily create hierarchy and metadata structures
How to achieve success through public access with Preservica
"It's been good to be able to rely on the various features that come out the of the box with Preservica. And the tech support that comes with Preservica has absolutely been priceless!"
Nikole Koehlert - Digital Archivist, Austin History Center
Can digital preservation really be this affordable?
Shelby Owings, Community History and Genealogy Librarian, at Perry Cook Library was faced with a common challenge – a wonderful collection of rich history, stored in boxes with no easy way to preserve the collection and provide access to library patrons. Their Heritage Collection documents the small former village of Johnsville from the early 1900s. Years later, all that remains from the former village was stored in various places throughout the library in boxes.
Through the use of Preservica Starter, Shelby has brought the Heritage Collection to life by digitizing, preserving, enriching with metadata, and making it available online for everyone to enjoy – all made possible by Shelby utilizing FREE Preservica Starter.
In the third video of our 'Digital Preservation for Libraries' series, Shelby discusses affordable digital preservation and answers these questions:
Is digital preservation affordable?
How has digital preservation helped you deliver on your mission?
What features in Starter do you like the most?
What advice do you have for those considering digital preservation?
"We have over 250 assets in our collection and haven't even scratched the surface of our 5GB, so you can do quite a lot for free without ever having to approach your board or patrons for money."
Shelby Owings - Community History and Genealogy Librarian, Perry Cook Library
7 ways digital preservation helps libraries overcome their biggest challenges
Academic libraries are in the midst of rapid, widespread changes as it shifts into the digital age. Changing user needs and rising technology demands have set the pace for the new norm: more efficient electronic resources, cost reduction methods, and cataloging support.
These institutions surely weathered the pandemic's storm, keeping communities connected even when doors were closed, but what it inevitably revealed is how preserving the world's digital memory has never been more important.
Our libraries have been a steady flame for patrons to depend on, not just throughout the pandemic, but throughout history. They continue to help meet communities' needs in new, innovative ways, and are pillars of education to help inform, support, equalize, mobilize, and unite. It's important to note however, their resiliency comes with plaguing issues and challenges for today's prized literary institutions.
Click here to look at 7 of the most noted challenges and see how Preservica confronts these issues while leading the way in Active Digital Preservation.
Essential guide to digital preservation
Discover how other organizations are preserving and sharing their unique digital collections.
What you will learn:
How other institutions have tackled digital preservation of their collections
How you can act now to protect your digitized and born-digital content
How to combine digital preservation and access into a single affordable system
How to ensure long-term preservation of content in digital libraries
How to use the Cloud to cost-effectively safeguard your digital collections
How to choose a complete standards based digital preservation solution