Preservica and
AM

partner to provide best-in-class digital asset management and digital preservation solutions for libraries and archives

BOSTON, MA, OXFORD, UK, SEPTEMBER 7, 2023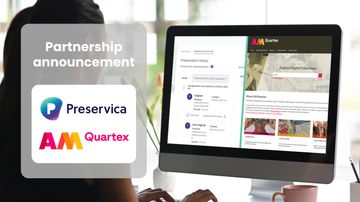 Preservica, a global leader in Active Digital Preservation™ archiving, has partnered with AM, a global publisher whose digital collections and technology platforms enrich the study, research and teaching of primary sources.
This collaboration will result in an integration that enables users of AM's Digital Asset Management (DAM) system, Quartex, to publish engaging, interactive, and accessible digital archives and to effortlessly preserve their collections, including assets and metadata, to prevent loss and degradation in the future using Preservica's Active Digital Preservation technology.
Quartex, AM's innovative DAM and website creation tool, empowers its customers to publish customizable digital collection websites that comply with WCAG accessibility guidelines. Additionally, Quartex offers tools such as digital exhibits, the IIIF compatibility, and a suite of transcription services for print, handwritten and audio-visual collections that enhance users' ability to discover and interrogate digital objects.
Preservica's Active Digital Preservation™ system, brings information forward over time, moving files from old formats to current formats, ensuring it remains readable. Preservica's digital preservation system automatically ensures nothing is lost during transitions through fidelity and fixity of data conversion and keeps all the original files alongside a full audit trail of preservation actions. Additionally, Preservica's technology supports over 2,000 file formats, allowing libraries to streamline their long-term, high-value digital collections from multiple departments and systems into a single repository for long-term care and choose which assets remain private and which are made publicly available through Quartex.
Together, Preservica and AM Quartex offer libraries a well-rounded digital ecosystem to protect and publish their digital assets.
Déirdre Joyce, Head of Digital Stewardship and the Digital Library at Syracuse University said, "Best in class modularity of our systems is key to our vision for the digital library at Syracuse University Libraries. By partnering with companies like AM for both our DAMS and the public interface of our digital library and Preservica for our long-term digital preservation needs, we are better able to pinpoint and manage the granular, unique needs of our digital objects and collections for our diverse user constituencies throughout the digital curation lifecycle." To learn more about how Preservica and Quartex complement Syracuse University's digital collections program, visit the Charleston Hub.
Preservica and AM both serve the global library community and share a growing list of customers, notably within the academic, public library and special library communities.
Joanne Fitton, Deputy Director of Libraries, Museums and Galleries at the University of Liverpool said - "The integration between Preservica and AM Quartex was really appealing to us as we look to develop our approach to both preservation and access for digital collections simultaneously. Each system offers solutions to different pieces of the puzzle, and ultimately, the integration will ensure we create seamless workflows to support our small team, keeping the user experience at the forefront of our development and working creatively with our stakeholders."
Anticipated for release later this year, the teams will actively engage with shared customers to gather feedback and insights, ensuring that the integration evolves to meet their specific needs. This collaborative approach aims to maximize the investment in both systems and deliver a seamless user experience.
Preservica and AM's partnership represents a significant milestone in digital preservation and asset management. It offers enhanced capabilities and value not only to their shared customers but also to organizations seeking to implement a comprehensive digital collections program. By combining the power of Active Digital Preservation technology with a cutting-edge DAM and website creation system, this collaboration empowers institutions to preserve, manage, and unlock the full potential of their digital collections for researchers, educators and future generations.
To further inform libraries about the benefits of utilizing both Preservica and Quartex, Preservica and AM will be hosting a webinar on October 18th. Hosted through the Library Journal, the webinar will provide valuable insights into the synergies of both systems and demonstrate how the integration works. To learn more about Preservica and AM and receive an invitation to the Library Journal webinar, register your interest here.
About Preservica
Preservica is transforming the way organizations around the world protect and future-proof critical long-term digital information. Available in the cloud (SaaS) or on-premise, our award-winning Active Digital Preservation™ archiving software has been designed from the ground up to tackle the unique challenges of ensuring digital information remains accessible and trustworthy over decades.
It's a proven solution that's trusted by thousands of businesses, archives, libraries, museums and government organizations around the world, including the UK National Archives, Texas State Library and Archives, MoMA, Yale and HSBC.
Twitter: @Preservica
LinkedIn: @Preservica
About AM Quartex
AM's digital collections and technology platforms enrich the study, research and teaching of primary sources. With over 30 years' experience working with librarians, educators and archivists, AM is inspired by archival materials and passionate about the technology that brings them to life. AM partners with libraries, archives and heritage institutions to digitise the world's historical and cultural knowledge. Developed to present AM's own primary source collections, Quartex helps customers bring archival materials to life.
Twitter: @AdamMatthewGrp
LinkedIn: @adam-matthew-digital-ltd
Media Contact
Aleeza Goodman