Preservica extends hosting of its popular Cloud editions to
AWS

Europe (London)

Preservica extends hosting of its popular Cloud editions to AWS Europe (London) region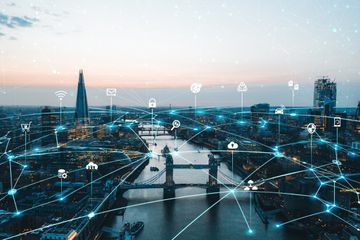 Boston, MA, and Oxford, UK | 29 November 2021
Following the recent availability of Preservica's free-forever digital preservation Starter edition in the UK, Preservica is further extending UK hosting with the availability of its popular Cloud Essentials and Professional editions on the AWS Europe (London) region. This is in addition to Preservica's Enterprise Private Cloud offering which is already available in the UK region.

The acceleration in cloud-first and digital transformation initiatives over the last year has increased focus on how critical long-term and permanent digital content is governed and used.
Availability of Preservica's full range of cloud-hosted Active Digital Preservation editions in the UK will provide government, education and corporate institutions of all sizes with a simple, secure and cost-effective way protect and share long-term content and as an easy way to scale and expand as needs grow.
Preservica's Active Digital Preservation software is already trusted by 100s of forward-thinking UK organisations including over 20 UK local authorities, Transport for London (TfL), leading brands such as John Lewis, BT, Bacardi and HSBC and prestigious Universities including Bristol, Nottingham and Manchester.
Preservica will also be running a practical digital preservation education program in 2022 in collaboration with ARA (UK & Ireland) and IRMS. More details will be announced shortly.
You can learn more about Preservica editions here or why not join thousands of other practitioners from around the world and start your digital preservation journey for free today!
Follow Preservica on Twitter, LinkedIn and Facebook to keep up to date and learn how to register your interest.
About Preservica
Preservica is transforming the way organizations around the world protect and future-proof critical long-term digital information. Available in the cloud (SaaS) or on-premise, our award-winning active digital preservation software has been designed from the ground-up to tackle the unique challenges of ensuring digital information remains accessible and trustworthy over decades.
It's a proven solution that's trusted by thousands of businesses, archives, libraries, museums and government organizations around the world, including the UK National Archives, Texas State Library and Archives, MoMA, Yale and HSBC.