Preservica Safeguards
200

Years of Academic History at The Lawrenceville School

Lawrenceville chose award-winning Digital Preservation software to protect their brand and ensure the longevity of digital materials.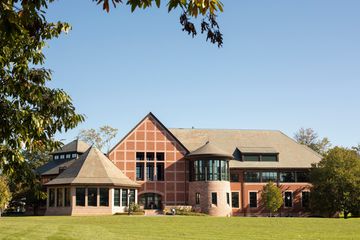 BOSTON, MA and OXFORD, UK / ACCESSWIRE / March 9, 2023 / Preservica, a global leader in Active Digital Preservation software, announced today that The Lawrenceville School has selected Preservica Cloud Edition to preserve important long-term and permanent electronic records of the school's heritage, history and brand.
The Lawrenceville School, located in Lawrenceville, New Jersey, is an esteemed co-educational preparatory school for boarding and day students. Founded in 1810, the 700-acre campus is ranked 8th on the list of the 418 best boarding schools in the country and contains 160 archived collections reflecting a rich history of the school's infrastructure, student body, institutional records and special collections.
Preservica Cloud Edition is a secure, ​"out-of-the-box" cloud-hosted Digital Preservation solution helping academic institutions meet the challenge of preserving records in the cloud. Preservica's Digital Preservation technology will ensure Lawrenceville fulfills compliance regulations and enables both private and public sharing of school-related records with administrative, legal, fiscal and historical value.
Archival searches have become fast and efficient, saving Lawrenceville archivists considerable time while the system oversees the collection and metadata management and full Active Digital Preservation. This ensures the school's valuable digital records and collections can be read and trusted over decades, no matter what file format they were created in.
The built-in online access and discovery portal means collections are not only preserved for the long-term but readily accessible today to use for research, teaching and learning.
"​​The Lawrenceville archives are a 200-year-old wellspring of valuable cultural and academic history," said Lawrenceville's Records Manager/Archivist, Peter Steinberg. "Our collaboration with Preservica has ensured the integrity and usability of our institutional records, operations and activities are protected for future generations."
"Preservica is proud to play a role in a growing global community of academic institutions that are protecting digital content and providing access in a single, secure place," said Mike Quinn, CEO Preservica. "With such a respected history of academic excellence, Lawrenceville archivists can feel confident their records will not deteriorate, regardless of format and will meet compliance obligations for better discovery, productivity and collaboration for all."
Join Preservica and representatives from Lawrenceville School, Eton College and Westtown School as they share their success stories from using Preservica to preserve and share their history. The Best Practices: Digital Preservation for Independent Schools webinar will take place on March 28, 2023 at 11:00 AM EDT, 4:00 PM GMT. Interested participants can register here.
To learn more about how Preservica helped Lawrenceville preserve and protect its over 200 years of history, click here, or visit Preservica.com to learn more about Active Digital Preservation for academic institutions.
About Preservica
Preservica is transforming the way organizations around the world protect and future-proof critical long-term digital information. Available in the cloud (SaaS) or on-premise, our award-winning Active Digital Preservation™ archiving software has been designed from the ground up to tackle the unique challenges of ensuring digital information remains accessible and trustworthy over decades.
It's a proven solution that's trusted by thousands of businesses, archives, libraries, museums and government organizations around the world, including the UK National Archives, Texas State Library and Archives, MoMA, Yale and HSBC.