Press release
Dartmouth College Library selects Preservica for long-term digital preservation needs
Boston, MA and Oxford, UK – Aug 15 2018 – The Dartmouth College Library, an integral part of the private Ivy League research university in Hanover, New Hampshire, has chosen Preservica​'s cloud-hosted active digital preservation software to protect and provide greater online access to the heritage and institutional assets of the college.
The Dartmouth College Library is focused on supporting and enhancing new modes of scholarship and research innovation at Dartmouth. In order to do this effectively, the Library regularly deploys and develops tools and services for the creation, dissemination, discovery, and preservation of Dartmouth research and collections. The selection of Preservica was the culmination of an extensive review process in which a cross-departmental team was tasked with the creation of an infrastructure to manage, preserve, and insure reliable and easy access to born-digital and digitized materials.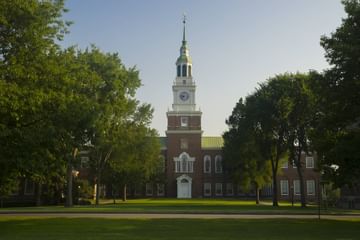 Dartmouth College and Baker-Berry Library
Daniel Chamberlain, Associate Librarian for Digital Strategies at Dartmouth notes, ​"We steward an amazing set of unique materials at the Dartmouth Library, and we need to ensure that our born-digital and digitized collections are discoverable, accessible, and secure. As an important aspect of our long-term access and preservation strategy, Preservica will enable us to consolidate our collections into a single secure platform through which they will be safely stored and actively preserved to ensure access by future generations of scholars."
The first stage of the digital preservation project will focus on digital materials held by Dartmouth's Rauner Special Collections Library, home to more than 100,000 rare books, over six and a half million unique items from cuneiform tablets to manuscripts, oral histories such as Vietnam War testimonials from Dartmouth alumni, and extensive Dartmouth College archives that include the history of the college and the surrounding area from its founding in 1769 to the present day. Over the past 20 years, the library has also been accessioning an increasing volume of digitized and born-digital materials.

Caitlin Birch, Digital Collections and Oral History Archivist at Dartmouth comments, ​"We have digital assets stored on obsolete media such as floppy disks, along with more recent formats that are becoming obsolete like CDs and DVDs, flash drives and PC hard disks. We conducted an audit of our digital media and identified nearly 1,500 individual media devices each of which contain thousands of digital files. We also have digital content stored on shared network drives. Preservica will help us protect these materials from corruption, accidental deletion, and obsolescence."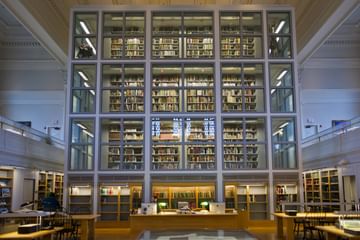 Dartmouth College - Rauner Special Collections Library
In addition to preserving its unique collections, the Dartmouth Library is committed to making its collections discoverable and viewable online for students, researchers, staff and the public.
Caitlin continues, ​"We drew up a detailed specification for our digital preservation needs and chose Preservica as the system that most closely aligned with our goals. We especially liked the fact that it brings preservation and access together in one application, that it synchronizes with ArchivesSpace to integrate the metadata for our physical and digital holdings, and that it enables us to perform the traditional archival tasks of arrangement and description in a digital environment.

Chamberlain adds, ​"We expect that Preservica will improve our workflows and enable our Library team to focus on curating, managing, and sharing our fantastic digital collections."

Mike Quinn, Preservica CEO, commented, ​"We're thrilled to welcome the Dartmouth College Library to our rapidly growing global user community that includes leading education institutions like Yale, The University of Manchester, University of the Arts London (UAL) and the Curtis Institute of Music as well many smaller colleges and specialist institutes. The Dartmouth Library houses some incredible digital artifacts and we look forward to working closely with Dartmouth to make these artifacts discoverable online today, as well as protect them for future generations."

About Dartmouth College
Founded in 1769, Dartmouth is a member of the Ivy League and consistently ranks among the world's greatest academic institutions. Dartmouth has forged a singular identity for combining its deep commitment to outstanding undergraduate liberal arts and graduate education with distinguished research and scholarship in the Arts and Sciences and its four leading graduate schools — the Geisel School of Medicine, the Guarini School of Graduate and Advanced Studies, Thayer School of Engineering, and the Tuck School of Business. Dartmouth's mission is to educate the most promising students and to prepare them for a lifetime of learning and of responsible leadership through a faculty dedicated to teaching and the creation of knowledge. At the heart of Dartmouth College is one of the oldest research libraries in the United States. The Dartmouth College Library is comprised of eight libraries distributed across various academic centers, which house a multi-million volume collection and provide access to a rich array of digital resources supported by a technically robust networked environment.
About Preservica
Preservica is changing the way organizations around the world protect and future-proof critical long-term digital information. Available in the cloud (SaaS) or on-premise, our award-winning active digital preservation software has been designed from the ground-up to tackle the unique challenges of ensuring digital information remains accessible and trustworthy over decades.
It's a proven solution that's trusted by business, archives, libraries, museums and government organizations around the world — including the UK National Archives, Texas State Library and Archives, MoMA, Yale and HSBC — to name a few.

Preservica is an AWS Education Competency Partner meeting the highest levels of availability, reliability and security for education workloads and data.

Visit: www​.pre​ser​vi​ca​.com Twitter: @preservica
Contact: In the US and Canada: For further information, please contact: Maria Doyle, maria@​doylestratcomm.​com, or call: +1 – 781-964‑3536
In the UK: For further information, please contact: Edward Clark, eclark@​thecommsco.​com, or mobile: 07983 507659