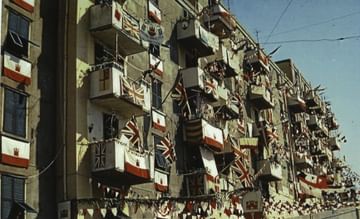 Press release
Gibraltar National Archives chooses Preservica to safeguard its rich heritage
Following the 50th anniversary of the 1967 sovereignty referendum, Gibraltar ensures its cultural heritage is digitally preserved forever
Gibraltar National Archives (GNA) has announced a partnership with Preservica to preserve and protect its extensive collection of historic digital records, following yesterday's National Gibraltar Day, which in 2017 also marked the 50th anniversary of Gibraltar's sovereignty referendum. Using Preservica's active digital preservation software and collaborative working approach, GNA's historic records are now safely stored and accessible for generations to come.
In 2014, the GNA rebranded, created a website, and upgraded into a 21st century archive repository, housing a combination of physical, digital and born digital records. Its next challenge was to select a system that could be used to permanently preserve and protect the archive's valuable long term digital records as they transitioned from a traditional, paper records archive. The digital archive includes thousands of World War II evacuation records, images of the great seal of Gibraltar of 1502, several famous paintings and an important cartographic collection. The GNAs hold 1.5 Km of linear storage for a territory only 10 square kilometres.
Dr. Joseph Garcia, Deputy Chief Minister of Gibraltar, said: ​"Our National Archives is a crucially important set of archives that celebrate Gibraltar's identity as a nation. Its contents, those maps, documents, photographs or other artefacts, give us a tangible expression of our history. It is these archives that will forever bring that history to life for Gibraltarians."
The UK National Archives recommended Preservica's active digital preservation and access software to the GNA. From there, Anthony Pitaluga, Head of the GNA attended a number of Archives and Records Association (UK) digital preservation workshops and tutorials, following which the Gibraltar National Archives decided to invest in a Preservica system.
Anthony said: ​"We had already taken steps towards the modernisation of the archive with the introduction of digitised and born digital files, and also the new website. One of our key objectives was to make sure that files were safely preserved and easily accessible."
GNA chose Preservica's Cloud Edition, hosted on AWS, for its ability to fulfil all requirements for best practices in the intake, processing, safe storage, management, and provision of access to Gibraltar's rich digital archive. In addition, using a preservation and access system that is hosted in the Cloud meant that the archives did not need to purchase local servers, storage, or need local IT, which made it a very cost-effective and affordable choice.
Using Preservica, the archives built a searchable database, and entered and ingested over 200,000 records. These include items of great historical and social importance, such as first hand testimonials from citizens who lived through WW2, and a 16th-century petition from the citizens of Gibraltar to the King of Castile, now Madrid.
"The Preservica team were brilliant," said Anthony. ​"The concept of the software is clear to me, and the team were always on hand if ever we encountered any issues."
Mike Quinn, CEO of Preservica, said: ​"We're delighted, especially during Gibraltar's sovereignty referendum 50th anniversary year, to enable the GNA to preserve its long-term digital records for the benefit of the Gibraltarians both present and future with Preservica Cloud Edition. Preservica look forward to supporting the GNA as it expands its operations and digital preservation programme."
About Preservica

Preservica is changing the way organizations around the world protect and future-proof critical long-term digital information. Available on premise or in the cloud (SaaS), their award-winning active digital preservation software has been designed from the ground-up to tackle the unique challenges of ensuring digital information remains accessible and trustworthy over decades.
It's a proven solution that's trusted by businesses, archives, libraries, museums and government organizations around the world — including the UK National Archives, the Met Office, Texas State Archives, MoMA, Yale and HSBC — to name a few.
Visit: www​.pre​ser​vi​ca​.com
Contact:

In the US: For further information, please contact: Maria Doyle, maria@​doylestratcomm.​com, or call: 781−964−3536
In the UK: For further information, please contact: Edward Clark, eclark@​thecommsco.​com, or mobile: 07983 507659

About The Gibraltar National Archives
Since 1969, the Gibraltar National Archives has been responsible for the collection and preservation of public records, as well as the preparation of those records for public access and academic research. In addition, the archives hold historical records pertaining to the 18th, 19th and 20th centuries from various bodies involved in the daily administration of Gibraltar. Some private individuals and groups have deposited their records at the Gibraltar National Archives.
The work of the archivist goes beyond the preservation and preparation of records. The Gibraltar National Archives provides a research service and officers deal with a substantial amount of both local and international enquiries. Additionally, the archivist liaises with schools and other institutions in Gibraltar and abroad and is often required to conduct research and deliver lectures on various aspects of Gibraltarian history.
Contact:
Archivist: Anthony W Pitaluga Tel/​Fax: (+350) 200 7 94 61 Email: archives@​gibraltar.​gov.​gi Website: http://​www​.nation​alarchives​.gi