Press release
Integro partners with Preservica to provide digital preservation for electronic records
New partnership brings together information governance expertise with a proven digital preservation platform to support customers in future-proofing and protecting critical long-term digital records
Boston MA and Oxford, UK – Aug 21 2018 – Digital preservation specialist, Preservica, is pleased to announce that, Integro, award winning experts in information governance and content services solutions, has become a Preservica Service Partner, joining a growing network of partners providing services and solutions around Preservica's market-leading active digital preservation and access platform.
The new partnership will enable customers to confidently build long-term digital preservation into the overall life-cycle of their critical digital content with the backing of years of proven information governance and content management expertise.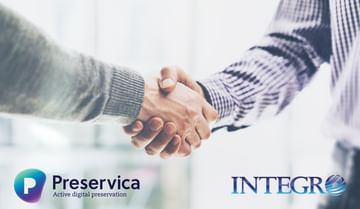 The business value of governing and future-proofing critical long-term digital information has recently been covered in an AIIM Research Report. The report highlights the need for organizations to deploy digital preservation to ensure long-term records are maintained in readable formats and are securely accessible to meet compliance, legal and brand value needs — including GDPR.
Scott Burt, President & Co-Founder of Integro comments ​"A growing number of our customers were asking for help with building strategies to govern and protect important long-term digital information assets. What they were looking for went beyond the capabilities of traditional ECM platforms. We are therefore delighted to be partnering with Preservica, who are the clear leaders in the emerging market for long-term digital preservation."
Mike Quinn, CEO Preservica adds ​"Integro is an industry recognized expert in information governance and content services solutions, and we are delighted they have become a Preservica Service Partner. Combining our expertise will enable us to offer customers the very best guidance and services around the deployment of long-term digital preservation alongside traditional content management platforms."
Upcoming Webinar
Integro will be hosting a webinar on August 23, 2018, 1 – 1:30pm (Mountain) ​"Tools of the trade for file analysis & long-term preservation". The webinar will include speakers from Active Navigation and Preservica. Learn more and register here.
About Integro

Integro is an award-winning technical services firm helping enterprises confront the evolving content landscape with modern solutions for information governance and content services. Integro's proven framework drives down risk and improves operational efficiency by helping companies understand, enrich, and leverage diverse content types across the enterprise.
Visit: www​.Inte​gro​.com Twitter: @Integro
About Preservica

Preservica is changing the way organizations around the world protect and future-proof critical long-term digital information. Available in the cloud (SaaS) or on-premise, our award-winning active digital preservation software has been designed from the ground-up to tackle the unique challenges of ensuring digital information remains accessible and trustworthy over decades.
It's a proven solution that's trusted by businesses, archives, libraries, museums and government organizations around the world — including the UK National Archives, Texas State Library and Archives, MoMA, Yale and HSBC — to name a few.

Visit: www​.pre​ser​vi​ca​.com Twitter: @Preservica

Contact: In the US and Canada: For further information, please contact: Maria Doyle, maria@​doylestratcomm.​com, or call: +1 – 781-964‑3536

In the UK: For further information, please contact: Edward Clark, eclark@​thecommsco.​com, or mobile: 07983 507659