Press release
Preservica and
AVP

partner on digital preservation
Boston, MA, Oxford, UK – Aug 13 2018 – Digital preservation specialist, Preservica, is pleased to announce that, AVP, experts in maximizing the usability of data, has become a Preservica Service Partner, joining a growing network of partners providing services and solutions around Preservica's market-leading active digital preservation and access platform.

The partnership pairs AVP's strong leadership in data management consulting, software development and product expertise with Preservica's proven digital preservation platform to offer customers complete solutions for migrating, preserving and improving discovery and access to valuable long-term digital information assets.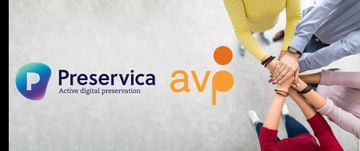 When organizations start their digital preservation journey, it's important for them to understand how they wish to use their digital content now and in the future. The combination of the data management services of AVP and Preservica's active digital preservation solution enables clients to successfully deliver digitally preserved content to their organization and if required, to broader external audiences, in an intuitive and effective manner.
Chris Lacinak, Founder and President of AVP comments ​"We are excited to announce Preservica as part of our B2B4C Initiative at AVP, which is focused on recognizing organic collaborations with providers of other services and products in which our mutual interest is in the success of a shared client or community. After we found ourselves working with Preservica in support of clients such as Yale University and Berea College it made sense to strengthen the support that Preservica and AVP offer each other in service to our shared customer base."
Mike Quinn, CEO Preservica adds ​"We are delighted AVP has become a Preservica Service Partner. AVP is an industry-recognized and well-respected expert in data consulting and software development. AVP will also leverage Preservica's new API extensions to offer customers comprehensive & connected preservation and discovery solutions."
About AVP
Founded in 2006, AVP is a consulting and software development firm focused on leveraging a deep understanding of data, technology, business, and people to maximize the usability of information to the benefit of organizations. Our team consists of internationally recognized experts with years of experience planning, designing and implementing technologies to help organizations manage their information assets. AVP works globally on projects involving digital preservation, large-scale organizational assessments, strategic planning, roadmapping, data management and migration, and more. Our team has led significant projects for diverse organizations including Carnegie Hall, the Museum of Modern Art, the Library of Congress, Harvard University, the Smithsonian Institution, Paramount Pictures, the United States Holocaust Memorial Museum, and many others.
About Preservica
Preservica is changing the way organisations around the world protect and future-proof critical long-term digital information. Available in the cloud (SaaS) or on-premise, our award-winning active digital preservation software has been designed from the ground-up to tackle the unique challenges of ensuring digital information remains accessible and trustworthy over decades.
It's a proven solution that's trusted by business, archives, libraries, museums and government organizations around the world — including the UK National Archives, Texas State Library and Archives, MoMA, Dartmouth College and HSBC — to name a few.
Visit: www​.pre​ser​vi​ca​.com Twitter: @Preservica
Contact: In the US and Canada: For further information, please contact: Maria Doyle, maria@​doylestratcomm.​com, or call: +1 – 781-964‑3536
In the UK: For further information, please contact: Edward Clark, eclark@​thecommsco.​com, or mobile: 07983 507659