Press release
Preservica and CoSA launch
2021

digital preservation capability initiative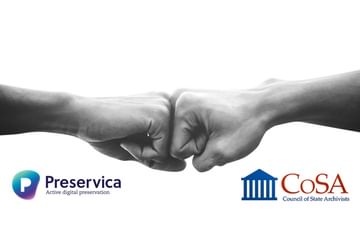 Preservica, the market leader in active digital preservation, is pleased to announce increased support in 2021 for the Council of State Archivists (CoSA) through sponsorship of the State Electronic Records Initiative (SERI). As part of this sponsorship, Preservica will provide 10 US state and territorial archives with best practice digital preservation training and free hands-on access to Preservica's recently launched Starter Plus edition (for up to one year).
The new initiative with CoSA aims to create greater advocacy and capability in digital preservation, enabling participating members to gain first-hand experience of building a trusted digital repository that can also be showcased with stakeholders, donors, funding bodies and the public.
Preservica and CoSA share a commitment to digital preservation and broad access to government records and have collaborated on education and research since 2015. The 2021 partnership also includes support for the State Electronic Records Initiative (SERI) webinar series, part CoSA's flagship education and training program.
Starter edition is the result of close collaboration with the archives and records management community and combines Preservica's trusted active digital preservation platform with an all-new intuitive user interface. The cloud hosted software makes it easy and affordable for institutions of all sizes to upload, fully preserve, curate and share digital content and records online.
Michelle Gallinger, SERI Coordinator, CoSA, commented, ​"We would like to thank Preservica for its generous support again this year. This new deepened partnership will further aid our commitment to supporting all State archives build capability and advocacy for digital preservation in a very pragmatic way."
Mike Quinn, CEO, Preservica, adds, ​"We are excited to launch this new initiative with CoSA and look forward to helping individual members gain hands-on experience of building a trusted digital repository. We have had a huge take up of our Starter edition especially amongst government organizations looking to preserve and protect permanent official and historical electronic records."
Those interested in joining the Starter Plus program can reach out to CoSA Executive Director Barbara Teague (atbteague@​statearchivists.​org) by March 26.
Learn more about CoSA's SERI program here.
Learn more about Preservica Starter and Starter Plus here.