Press release
A new partnership to enhance online accessibility and long-term preservation for your valuable digital assets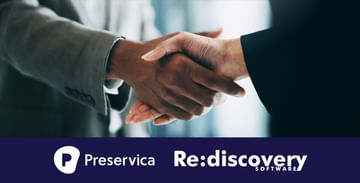 Preservica, the world's most trusted cloud archiving and active digital preservation platform and Re:discovery, the independent US owned provider of collection management systems are pleased to announce a new partnership. The collaboration will provide libraries, museums, government institutions and corporate organizations with all the benefits of an integrated collections management and digital preservation solution. It will enable them to meet the important mandates governing the preservation of, and access to, valuable records and historical assets.
This development ensures institutions can both future-proof all their permanent digitized and born-digital records as well as enhancing the online experience for members of the public making it much easier for them to find and access important information.
"We are pleased to be working with our new partner Re:discovery. Public and private organizations are transforming digitally to meet the increasing demand from citizens to easily find information online. With this partnership archives can ensure assets are fully preserved over the long-term as well as being made easily accessible so members of the public can self-serve" said Preservica CEO Mike Quinn.
"Rediscovery Software is very pleased to welcome Preservica as a business partner to our Proficio Collections Management software" said David Edwards, Re:discovery Founder and President. ​"This partnership will be a great benefit to our clients as it integrates Digital Preservation with Collections Management functions allowing for streamlined workflow processes".
Using the integration now available between Preservica and Proficio, organizations can manage their collections and curatorial tasks along with their digital assets without having to input information more than once. They get the best of both solutions with minimal effort by sharing metadata at the click of a button between Proficio's collections management software and Preservica's digital preservation platform.
About Preservica

With offices in Boston, Mass. and Abingdon, Oxfordshire (UK), Preservica is changing the way the world future-proofs and accesses critical long-term digital information – enabling organizations to drive innovation, confidently meet compliance and legal requirements and safeguard digital content of unique cultural and brand importance.
Our world-leading cloud-hosted (SaaS) and on-premise active digital preservation software is trusted by a rapidly growing customer base of organizations across the globe, from major corporations, to government bodies, and iconic cultural institutions, including HSBC, Associated Press, British Telecom, Yale, MoMA, 22 US state archives and 15 national and pan-national archives.
About Re:discovery
Re:discovery Software, Inc. (RSI) is the leading provider of essential and proven museum collection management systems. RSI's team of software and museum professionals are proficient in software development and museum practices, experienced in project management, technical writing, and fulfilling contractual obligations under federal and state government contracts. Most of RSI's staff has been with the company for more than 15 years.
RSI's client base extends throughout the United States and into Canada. The company's corporate clients include nationally recognized insurance and retail companies. Proficio is currently in use at a wide range of American Alliance of Museums (AAM) accredited institutions for heritage asset collection management, accountability, and control to their institutions.