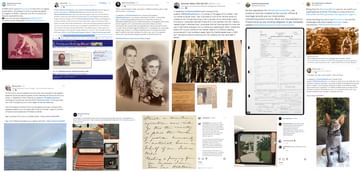 Press release
Preservica Announces Donation to the SAA Foundation's Mosaic Scholarship on World Digital Preservation Day
On World Digital Preservation Day, November 3, Preservica is pleased to announce its donation to the Society of American Archivists (SAA) Foundation's Mosaic Scholarship. The donation comes as a culmination of Preservica's participation in American Archives Month celebrations this October.

Preservica is a proud member of the archive community, and the company's American Archives Month celebrations included a new social media campaign – #WhatDoYouPreserve. The campaign had three goals: to celebrate archives and archivists, raise awareness about digital preservation, and give back by donating to the SAA Foundation's Mosaic Scholarship. SAA is the largest national professional association dedicated to the needs and interests of archives and archivists, and coordinates American Archives Month celebrations and awareness campaigns, including the #AskAnArchivist initiative.
Every time #WhatDoYouPreserve was used on social media during the month of October, Preservica increased its donation to the SAA Foundation's Mosaic Scholarship. The fund,​"promotes much-needed diversification of the archives and special collections professional workforce by providing financial support, practical work experience, mentoring, career placement assistance, and leadership development to emerging professionals from traditionally underrepresented racial and ethnic minority groups."
On announcing the donation, Mike Quinn, CEO of Preservica shared, ​"We have enjoyed hearing about the great preservation work that people are doing both personally and professionally this month with the #WhatDoYouPreserve campaign. Raising our collective voice as a community can only help to increase support for the important work of archives. We know growing that voice is equally important and so we've chosen the SAA Foundation's Mosaic Scholarship for this year's donation to help encourage more people to join this vital profession."
Lisa Mangiafico, President of the SAA Foundation Board, remarked, ​"On behalf of the SAA Foundation, I'd like to express my deep gratitude to Preservica for their donation as a result of their Archives Month #WhatDoYouPreserve campaign. Preservica has chosen to support the foundation's Mosaic Scholarship fund. This fund provides financial and mentoring support to students of color pursuing graduate education in archival science and encourages students to pursue a career as an archivist. We are proud that Preservica joins with SAA and the SAA Foundation in promoting the diversification of the American archives profession."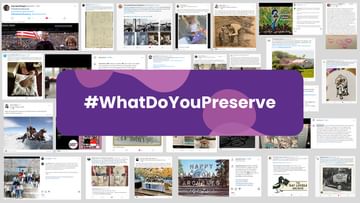 #WhatDoYouPreserve
Preservica's #WhatDoYouPreserve social media campaign invited participants to highlight important collections or individual items at their repository. A few notable contributions to the popular campaign include:
"The campaign was a lot of fun, but we also wanted to make a difference in the community. We were so pleased to see how many members of our staff, clients, and various stakeholders in the archives community participated this year," said Alaine Behler, Preservica's VP of North America Marketing. ​"We plan to continue this tradition each October, and hope to see participation continue to grow.

Supporting the Society of American Archivists Foundation's Mosaic Fund
The Society of American Archivists Foundation is the nation's leading source of nonprofit funding dedicated to the interests of archives and archivists. Funds that support services to archivists and the archives profession include the Mosaic Fund as well as a number of other noteworthy funds that can be found on their website at SAA Foundation | Society of American Archivists.

Not digitally preserving yet?
It's easy and FREE to get started. Click here to start future-proofing your most important digital content.