Press release
Preservica joins new Digital Preservation Coalition supporter programme
Digital preservation specialist becomes first to partner with the
DPC

on new initiative designed to foster closer collaboration between solution providers and

DPC

members

Oxford, UK | 25 January 2017 | Digital preservation specialist Preservica is the first vendor to partner with the Digital Preservation Coalition (DPC), following the launch of its new Commercial Supporter Programme. With long-term digital preservation recognised as 2017's hottest information management issues, the new programme will enable Preservica and DPC members to work more closely together on initiatives that will benefit the digital preservation community as a whole.


The DPC Commercial Supporter Programme was born from the need for a collaborative environment where solution providers and members can share industry insight and learn from one another, whilst maintaining vendor neutrality.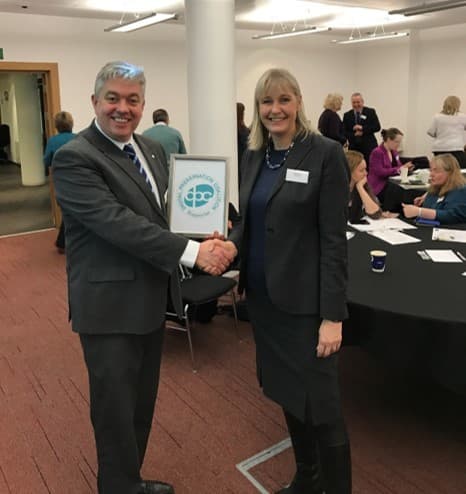 William Kilbride, Executive Director, DPC congratulates Ann Keen, Preservica on joining the DPC Supporter Programme

"This new programme was launched to facilitate better and more meaningful communication between members and solution providers on ​'neutral' ground, and to drive awareness across what is already a rapidly growing industry that will expand in 2017 and beyond" explained Chair of the DPC and Deputy Keeper of the Records of Scotland, Laura Mitchell. ​"We are delighted that Preservica is the first supporter to join the new programme and welcome the insights and opportunity to collaborate this will provide"
"We are excited to be the first to join the DPC in this new initiative" said Mike Quinn, CEO, Preservica ​"Many of our users are already members of the DPC, so it made perfect sense to support a programme that promotes closer collaboration and has the shared aim of developing best-practice and raising wider industry awareness of the importance of digital preservation."
Any commercial organisation may apply for DPC Supporter status. In return, these organisations will be invited to actively participate in and extend the Coalition activities. Supporters also receive early access to DPC Technology Watch Reports, an invitation to an annual trade fare and horizon scanning meeting with DPC members, as well as the opportunity to showcase products and services through webinars and relevant briefing days.
About the Digital Preservation Coalition
The Digital Preservation Coalition (DPC) exists to make our digital memory accessible tomorrow.
We enable our members to deliver resilient long-term access to digital content and services, helping them to derive enduring value from digital collections and raising awareness of the attendant strategic, cultural and technological challenges they face. We achieve our aims through advocacy, workforce development, capacity-building and partnership.
https://​www​.dpcon​line​.org/​i​n​d​e​x.php
About Preservica
Preservica is a world leader in digital preservation technology and research. Our active preservation solutions are used by leading businesses, archives, libraries, museums and government organizations globally, to safeguard and share valuable digital content, collections and electronic records, for decades to come. These include many European National Archives and Libraries, 17 US State Archives, the European Commission, Yale University and HSBC, to name a few.
Preservica's award-winning digital preservation and access software is available on premise or in the cloud and is a complete, standards-based (OAIS ISO 14721) trusted repository that includes connectors to leading Enterprise Content and Records Management systems to ensure long-term usability, trustworthiness and preservation of vital digital records, emails and other content.
Visit: www​.pre​ser​vi​ca​.com
In the UK: For further information, please contact: Helen Frear, hfrear@​thecommsco.​com, or mobile: 07824 158805
In the US: For further information, please contact: Maria Doyle, maria@​doylestratcomm.​com, or call: 781−964−3536