Press release
Stuart Reed joins Preservica to lead the vision, strategy and operational execution of the Digital Preservation platform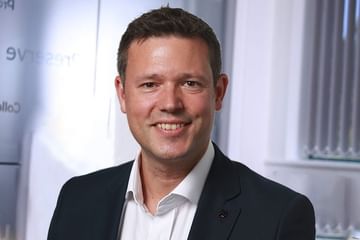 Boston, MA, Oxford, UK August 29, 2022 — Preservica, experts in active digital preservation archiving, are pleased to announce that Stuart Reed is joining the company as Chief Product Officer (CPO). As the new CPO, Stuart will lead the vision, strategy and operational execution of the Digital Preservation platform, ensuring Preservica continues to lead the market and deliver outstanding value to its customers.
Stuart will step into a leadership role for the Product/​UX team at Preservica. He brings over 20 years of product management and strategy experience, much of which has been focused on technology and SaaS-based businesses. Prior to joining Preservica, Stuart was a managing director at Kroll, where he was responsible for the global product strategy and management function within their cybersecurity business
"Product leadership is foundational to company growth, which is why I'm so excited to be joining the Preservica team," Stuart said. ​"Coming from the world of cybersecurity, there's a lot of overlap with the digital preservation space. I look forward to applying my product strategy experience, and complimenting the already dynamic Preservica team."

Expertise in product management and development
Stuart has held product-related positions for a range of organizations. Stuart spent over two years as Director of Product Management for MessageLabs, an email cybersecurity SaaS startup acquired by Symantec and Integralis (acquired by NTT) where he held several roles including Senior Director, Market Strategy for their global markets. He's also worked for established multinationals like Kroll and Sony, where he drove product portfolios on an international scale.

For the last 15 years, Stuart has been embedded in the world of cybersecurity, which provides many parallels to the digital preservation space – software development, roadmap prioritization, SaaS platform integration, data integrity and secure archiving.
A new voice on the leadership team

Stuart will take direct responsibility for Preservica's Product/​UX team, whose operations are essential to the company's growth and investment strategy. He will report directly to Mike Quinn, CEO of Preservica.

​"To continue to be the best and most powerful digital preservation software on the market, Preservica has to stay committed to building the best product," Mike said. ​"Stuart is an expert in all things product – strategy, marketing, roadmap, you name it. I'm thrilled to have such an experienced and proven voice joining our team."
About Preservica
Preservica is transforming the way organizations around the world protect and future-proof critical long-term digital information. Available in the cloud (SaaS) or on-premise, our award-winning active digital preservation software has been designed from the ground up to tackle the unique challenges of ensuring digital information remains accessible and trustworthy over decades.

It's a proven solution that's trusted by thousands of businesses, archives, libraries, museums and government organizations around the world, including the UK National Archives, Texas State Library and Archives, MoMA, Yale and HSBC.