Blog
Advocating for digital preservation through better corporate governance
Last month I attended the ICA Section for Business Archives meeting which was held at the Levi Strauss HQ in San Francisco. It was an inspiring and very well-organized event attended by over 100 business and corporate archivists with a further 100 watching online. The wide variety of presentations and panel sessions included topics ranging from ​"harnessing new technology" to ​"operational excellence."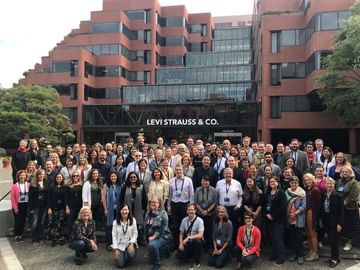 ICA SBA Conference at Levi Strauss in San Francisco
Going digital
During the breaks I had many conversations on managing digital content (digitized and born digital) and in particular the challenge that business archives face in getting the right level of buy-in (and budget) for an appropriate technology solution to archive and protect this invaluable corporate knowledge over decades.
Many I spoke to were struggling to properly safeguard digital content or making do with systems that were primarily designed for collaboration, like shared drives, content management or DAMs, rather than long-term digital archiving and preservation.

It reminded me of what Tamara Thornhill, Corporate archivist at Transport for London (TfL) says in our upcoming podcast series ​"in the digital world the explosion of information is challenging our traditional approaches to archiving and requires us to embrace new technologies."
So where to start?

Several archivists were keen to discuss the best place to start engaging with other business functions to advocate for a dedicated digital archiving and preservation solution. There is plenty of choice as the diagram below shows, from corporate comms to the corporate secretary all of which will typically interact with the archive either submitting or requesting records or assets.
Protecting corporate knowledge, heritage and brand value
Often the archive will align with its reporting function, and because many archives come under corporate comms this manifests as brand heritage, anniversary and storytelling campaigns. Anniversaries and other milestones are typically high-profile cross department initiatives that can be used to secure money for digitization of heritage assets and subsequent archiving and long-term preservation.
Corporate governance
However, if you don't have a major anniversary coming up in the next 5 or 10 years you might like to also approach the legal or corporate secretary functions within your organization.
Governance records have significant value and implications for corporate knowledge and usually need to be retained for the lifetime of the corporation e.g. board and committee minutes and other strategic decision making, the chair or CEO memos, mergers and acquisitions (M&A), financial statements, shareholdings and intellectual property (IP) including brand and trademarks.
Focusing advocacy here has the added advantage of getting the attention of the board and the most senior stakeholders of the business.
Getting buy-in at the Associated Press
Improving corporate governance was the starting point that Valerie Komor, Director Corporate Archives at the Associated Press (AP) talks about in her recent video interview with Preservica. She goes on to explain how the archive team has subsequently gone on to create a trusted online source of digital corporate knowledge and assets for departments right across the organization including marketing, legal, strategic planning, governance, journalism and global business.
Valerie Komor, Director of AP corporate archives
Valerie also discusses the importance of digital preservation, and how departments are now ​"astounded" by the speed the archive team can quickly pinpoint requested information, further raising the profile and value of the archive.
Learn more…
You can find other useful resources and case studies on our Corporate and business archives page. And if you would like to share experiences and learn from other corporate and business archivists then why not join our Linkedin group on digital archiving.