Blog
Using digital preservation to engage the community in new ways at
UMW
Real-world digital preservation blog series: University of Mary Washington (
UMW

)

I recently caught up with the Special Collections and University Archives team at the University of Mary Washington (UMW), including Angie White (Digital Resources Librarian), Carolyn Parsons (Head of Special Collections & University Archives), and Sarah Appleby (Cataloging and Processing Assistant).

This small but collaborative and passionate team spoke with us about how Preservica's cloud-hosted active digital preservation software enables them to achieve more; not only protecting the University's unique digital collections for future generations but also engaging alumni, students, staff and the public in new and innovative ways using Preservica's easy-to-customize discovery portal.

UMW Special Collections and University Archives

The Special Collections and University Archives include more than 1,500 volumes of rare books (some dating from the 16th century), journals, Civil Rights history and original World War I posters. The University Archives preserves historical materials from all offices, departments, and divisions of the institution including publications, such as the student newspapers, and the Battlefield yearbooks.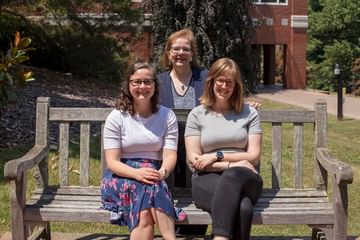 Angie White (left), Carolyn Parsons (middle), Sarah Appleby (right)
Achieving more in the cloud

Like many archives, UMW wanted to move away from a reliance on physical storage media, but they needed an archiving solution that was secure, easily accessible, and came with a high degree of technical support. UMW Libraries didn't have the staff or additional time required to manage on-premise servers, so making the move to the cloud was the logical step. This would allow UMW to more easily achieve their goals of facilitating project collaborations, making their unique cultural collections more widely available, and focusing on their wider digital transformation initiative.
Angie commented: ​"A cloud-based preservation system like Preservica was the next move for us here at UMW. It was ideal because it does not require local IT resources and included everything we needed and more out-of-the-box. We were looking for more space to unify our special collections, which were initially held in multiple locations. A streamlined user experience makes researcher's lives easier when coming to the archives."
Carolyn added: ​"We wanted to make sure that our digital strategy in the present kept future audiences in mind. We knew a secure cloud-based solution would remove a lot of the stress associated with potentially losing data that we'd worked hard to preserve."
In 2017, Preservica was chosen by UMW to help support and promote their digital preservation mission. There were several key differentiators that made Preservica more desirable than other options, such as Universal Access capabilities, digital preservation and the presence of a dynamic User Group.
Carolyn noted: ​"We'd been considering digital preservation options, including Preservica, for a while, but the absence of a universally accessible system meant we were coming up against something of a brick wall. When we saw the news that Preservica's service now incorporated a Universal Access (UA) function, this was absolutely vital. UA allows us to increase the availability of unique materials that students and staff might use in teaching projects and research through an engaging and easy to navigate interface."
Sarah added: ​"Preservica's User Group community has, as hoped, proved to be incredibly useful for us as an archive. The shared experience of so many archives around the world means that we've been able to draw on the experiences and lessons of those who have gone before us. It's allowed us to make better decisions as an archive and achieve some of our goals faster."
Preservica also offered a high level of technical support and an accessible user interface, but at an affordable rate, which meshed with the goals of UMW.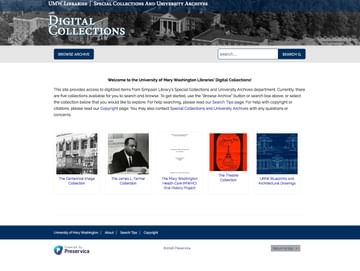 UMW online digital collections powered by Preservica
Using the Universal Access Portal for User Engagement

Angie commented, ​"A critical requirement for us was to be able to engage and share with our different communities in the ways they like to engage with us. One example is our alumni Instagram feed which has 1000s of followers and has become a great place to share new and old images of life at UMW."
Angie continues, ​"The Alumni department's social media manager wanted to conduct outreach activity to the Alumni community. Using the Universal Access portal, she was quickly able to find images from the past to make connections in the present – providing a great way to engage with alumni and at the same time directing people back to the archives, further elevating their value."
A great example of this included the posting of a picture of a well-known fountain at UMW, inspiring comments regarding the old Framar pool that had previously existed on campus. The Alumni department was able to quickly find photographs of the other campus locations in Preservica, download and post to Instagram.
"This type of immediate engagement and connection with our alumni and students is just one aspect of the benefits of using Preservica." says Angie, ​"UMW also has goals of facilitating more collaborations, enhancing teaching projects and enabling others to make use of our resources as part of our wider digital transformation initiatives. In short, Preservica is not only helping us preserve our digital artifacts for the future, but also assists in providing easy access and engagement with our community."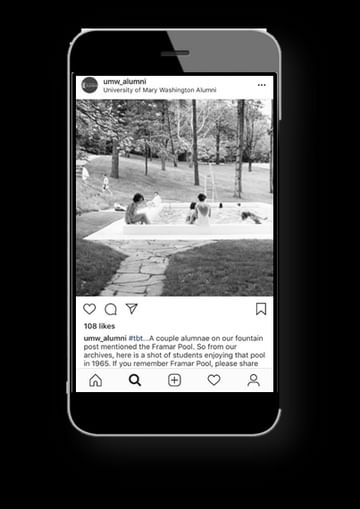 Relaxing at the pool – from UMW Alumni Instagram account
100 years since Armistice Day

Another example of making cultural resources more accessible is adding UMW's unique collection of World War I era posters to the Preservica powered portal. The original print copies are held in the physical archives. Through digitization, UMW can store the digital masters in Preservica for long-term preservation, as well as make presentation versions available online to the public for the first time to mark the 100th anniversary of the signing of the Armistice agreement.
Angie commented: ​"In this landmark year of remembering the end of World War I, we're pleased that Preservica is going to help us make a historic collection available to the public. It's an important reminder of the role that digital preservation and archives play in safeguarding cultural memory for future generations."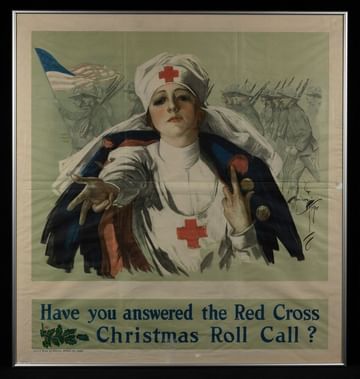 A WWI poster from 1918, "Have you answered the Red Cross Christmas Roll Call?" by Harrison Fisher (1875-1934).
Building for the future
UMW also plans to preserve born digital resources, such as UMW blogs and digital projects, where a wide range of stakeholders share research and creative projects. This will use Preservica's built-in auto web harvesting capability.
"We're excited that we can now really begin to build on what we have achieved so far," concluded Carolyn. ​"Whether it's safeguarding images and AV materials, incorporating elements of our rare book collection to the cloud, making important cultural items widely available, or expanding the services we can provide to faculty members and students."
Visit the UMW online digital collections
Discover other examples of Archivists and Collection managers achieving more in digital preservation