Press release
University of Notre Dame Hesburgh Libraries and University Archives modernize digital preservation environment with Preservica
As the Hesburgh Libraries move toward ​
"

all-digital assets", digital preservation is key

Preservica, the market leader in SaaS-based active digital preservation, is pleased to announce that the University of Notre Dame has chosen Preservica's digital preservation solution to seamlessly integrate digitized and born-digital material at the Hesburgh Libraries, with particular support for University Archives collections.

The Hesburgh Libraries is a network of locations across campus that offers expertise, services, resources, and spaces that are integral throughout the full life cycle of teaching and research. The Libraries' mission is to connect people to knowledge across time and space, with the role to acquire, preserve, organize, and steward this knowledge in a way that makes it accessible for study by all scholars throughout time. Within the Libraries, University Archives collects, preserves, and makes accessible the official records of the University of Notre Dame. Preservica's proven and scalable digital preservation solution will enable the University of Notre Dame to curate and share its growing digital materials, including collections that support research and scholarship.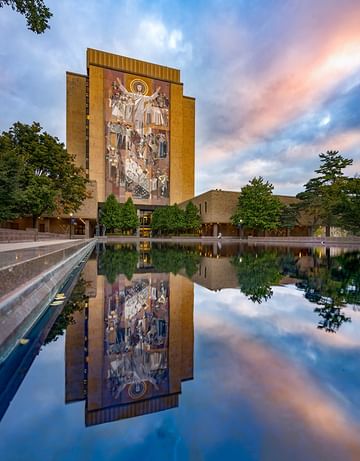 The Hesburgh Library is the flagship building of the library system at the University of Notre Dame. © University of Notre Dame, Photo by Matt Cashore
Angela Fritz, head of the University Archives, comments, ​"Preservica emerged as a response to develop an enterprise solution for a sustainable and trustworthy digital repository in the context of the exponential growth of complex digital records. We see Preservica as a central tool in helping us navigate the changing nature of digital stewardship for our growing archival collections."
Tracy Bergstrom, director of Specialized Collections and Services, adds, ​"Preservica delivers significant value for our digital preservation initiatives, plus provides us with the ability to monitor the health of our records long term. We are particularly interested in its automated, integrated workflows for a variety of assets and formats, as well as Preservica's ability to integrate with ArchivesSpace and other products."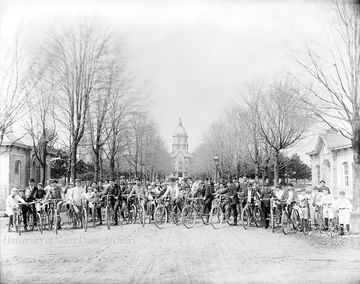 A group of minim students with bicycles on Main Quad with Main Building in the background, Porter House to the left, and the Post Office to the right, c1890s. Caption: "Bicycle Army." University of Notre Dame Archives, GGPN 15/04
University of Notre Dame Archives manages the official records of the university as well as documents the experiences of its students, alumni, faculty, staff, and associated organizations. The Archives also collects and maintains records, papers, photographs, printed material, and audio-visual material that document the history of Catholicism in the United States and is recognized as one of the nation's foremost archival repositories for the study of American Catholicism.
Preservica CEO Mike Quinn, said, ​"We welcome the University of Notre Dame to the Preservica family. We're pleased the Hesburgh Libraries and University Archives have chosen to unlock the value of their digitized and born-digital collections with Preservica's digital preservation solution. At Preservica, we are proud to be a well-regarded and trusted resource for libraries worldwide to keep digital information accessible and usable over the long term."
Preservica Resources:
● Active digital preservation for libraries and museums
● White paper – Essential Guide: Affordable digital preservation for libraries and museums (download)
About Preservica
Preservica is changing the way organizations around the world protect and future-proof critical long-term digital information. Available in the cloud (SaaS) or on premise, our award-winning active digital preservation software has been designed from the ground-up to tackle the unique challenges of ensuring digital information remains accessible and trustworthy over decades.
It's a proven solution that's trusted by a growing number of businesses, archives, libraries, museums and government organisations around the world — including HSBC, the Associated Press, Unilever, Transport for London (TfL), Pernod Ricard, the World Bank, Amnesty International, 22 US state archives including Texas, California, and Massachusetts, Yale University, and the European Commission – to name a few.
Visit: pre​ser​vi​ca​.com
Twitter: @Preservica
Contact:

In the US and Canada: Maria Doyle, maria@​doylestratcomm.​com or +1 – 781-964‑3536
In the UK: Edward Clark, eclark@​thecommsco.​com or 07983 507659