Blog
New year, new you? Achieving more with digital preservation in
2019
We're back into the swing of a new working year, and the blank canvas of opportunity is stretching out before us. For organizations around the world meetings will already have taken place about what they want to achieve in 2019.
Something that can often fall off the agenda, however, is the longer-term view of how to protect and leverage the value of the organization's digital assets. It's a challenge familiar to many archivists, librarians and records managers.
So here is a new year's resolution that might be easier to keep than getting down the gym more often: resolving to help your organization achieve more by kicking-off or enhancing your digital preservation initiatives in 2019.
The good news is that you won't be alone. In 2018 we saw a real surge in organizations recognizing the value of a focused approach to digital preservation and access, as well as the benefits of using a complete, out-the-box solution. And we expect this to continue in 2019.
In fact, last year, we featured many inspiring stories in our ​"Be more. Achieve more" blog series on Preservica customers that are using our active digital preservation software to deliver real value to their organizations.

University of Mary Washington who have used greater online access to raise the profile and usage of the archive across the University, including working with the marketing department to engage Alumni using historical images on their Instagram feed
Kentucky State Archives are now able to operate at real scale; acquiring, preserving and making accessible amazing records and digital content from over

240

state agencies
Boston City Archives are using Preservica's built-in web harvesting to auto snapshot the websites of city departments and agencies, and make their collection discoverable on the Digital Public Library of America (

DPLA

) using the Preservica

OAI-PMH

API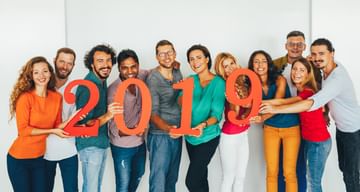 Many others also got their digital preservation programs underway with Preservica in 2018 including Amnesty International, Network Rail, John Lewis, Sainsbury Archive, Dartmouth College, the Archives of New Brunswick, the Art Institute of Chicago, University of Arts London and the Libraries and Archives of Canada…to name but a few.
Looking ahead to 2019
Great feedback from our 2018 user group meetings in Oxford and Washington (with over 200 attendees) also means our product roadmap in 2019 promises to be the best yet. We have new releases planned packed full of user-led features including new easy upload capabilities, enhanced access, auto-acquisition of content, and thanks to our innovation team, the use of AI/ML and Blockchain technology.
All this makes 2019 the perfect time to get your digital preservation project off the ground and join a dynamic and growing user community at the forefront of digital preservation.
If you would like help building your case or just some advice on how to get started, then please feel free to get in touch today.
Finally, don't miss the latest in our Be more. Achieve more. webinar series featuring Rachel Vagts, Head of Special Collections and Archives at Berea College – learn more & register here

Best wishes for 2019!
Michael