Boston City Archives
Learn how digital preservation software has enabled the team at Boston to build a living and sustainable digital archive that includes automated harvesting of government department websites, an easy to search online portal and visibility of Boston's unique digital artifacts on the Digital Public Library of America (DPLA).
Boston City Archives use Preservica to make digital records accessible at a national level
Marta Crilly, Archivist for Research and Outreach at the Boston City Archives, discusses how Preservica's cloud-based digital preservation software allows her institution to achieve more, building a living and sustainable digital archive that includes automated harvesting of government department websites, an easy to search online portal and visibility of Boston's unique digital artifacts on the Digital Public Library of America (DPLA).

Bringing Boston's records into the digital era
We recently visited Marta Crilly at the Boston City Archives and learned how citizens and researchers are using the digital archive to learn more about the city of Boston's past and the lives of the people who lived there.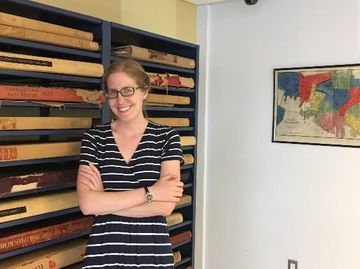 Marta Crilly, Archivist for Research and Outreach at Boston City Archives
Marta explains that the Archives house the permanent historical and administrative records of the Boston City government. This includes mayoral files, correspondence, public works records, tax records, along with school department, fire department, and City Council records. She points out the Archives is not a historical society, nor do they house state or federal records, but maintain a strict focus on their mandate to preserve and make accessible the records of government for the City of Boston.
Interestingly, the Boston City Archives has only existed since 1989. Prior to that, the records of the city government were scattered in various city buildings and agencies. In the late 1980s a review of city records warned that they were in grave danger, and legislation was passed at the state level to archive Boston's records. For the most part, those records were kept as paper documents, registers, and photographs.
Since then the challenge has shifted to not only transitioning paper records into digital form to protect them and enable computerized search and access, but also to preserve the increasing volume of born-digital records including modern information sources such as emails, websites, videos, presentations and word documents.
Digitization and public access
Seeing the rising tide of both digitized and born-digital material prompted Boston City Archives to select and start using Preservica's active digital preservation software in 2016. The Preservica system allows the Archives to preserve, flexibly manage, and provide wider access to its unique digital records. In particular, having a single, easy-to-use, cloud-hosted application has enabled the Archives to achieve more and to focus on their role of curating and sharing these records rather managing local IT servers and individual tools.
With digitization, records are now searchable by the public, researchers and historians exploring genealogy, or looking for information on government decision making. Using Preservica's easy to customize access portal Marta is able to make these records discoverable and immediately available online. Marta also uses Google Analytics to track metrics on access – such as which items are viewed the most, or which search terms are used most frequently. This enables the Archives to make informed digitization decisions that match changing interests and maintain a living and relevant archive.
An example of a desegregation record located on the City Archives public access site, powered by Preservica
One particular topic of interest is desegregation of the Boston public schools in the 1970s, a turbulent time in which school integration through busing led to riots and violent protest. Many records relating to this period, including personal correspondence with Mayor Kevin White, are now also available much more widely due to a partnership between the Boston City Archives, Massachusetts Digital Commonwealth, and the Digital Public Library of America (DPLA).
Connecting with the Digital Public Library of America
Researchers and the public can now reach the Boston City Archives access pages by searching sites that aggregate information - such as the Massachusetts Digital Commonwealth and the DPLA. Marta is able to make information about her digital records available on these state and national sites using Preservica's standards-based APIs (OAI-PMH) that allow metadata to be harvested from Preservica and displayed and searched on the aggregation sites. By working together to standardize metadata, researchers and the public using the DPLA or Digital Commonwealth sites can now seamlessly find and click through to see Boston City Archives records rendered through the Preservica access portal.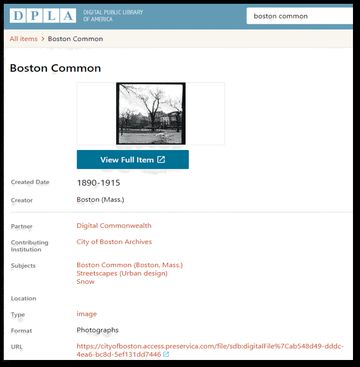 Boston City Archive content discoverable on the Digital Public Library of America
Automated web harvesting
Marta also uses Preservica to automatically harvest, preserve and render website content, a feature that is built-in to the software. In 2015 and 2016, the city had more than 30 different websites run on a departmental basis, in addition to the main city site. It is important to be able to take a snapshot of these various websites over time and preserve their content. For example, the police department site is harvested daily since the online police blotter (the register of arrests or people brought in for questioning) is updated on a daily basis. Other sites that change less frequently are automatically harvested weekly, monthly or quarterly. As the departmental sites are becoming more consolidated within the City of Boston website (www.boston.gov), it is critical to harvest this site and preserve its digital information.
Documenting the ordinary people of Boston
Marta enjoys her job because it provides a glimpse into the lives of the ordinary citizens of the city. She comments, "We do have Paul Revere's signature here, but it is on a document that complains about sewage problems in his neighborhood." Things like tax records, voter polls, teacher certifications, and prison records are all housed here.
Some of Marta's favorite items in the Archives relate to public health records – how people were affected by illness and disease, such as the cholera epidemic in the 1800s and the flu epidemic in 1918. There are records on quarantines, birth and death records, and photos, such as this one of families in a hospital waiting for medical care.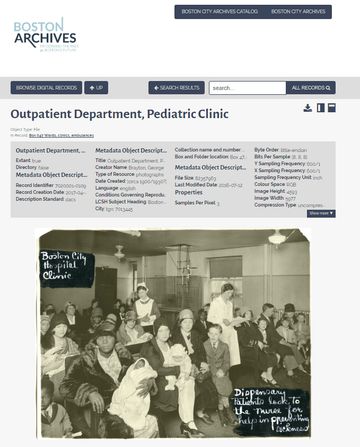 Example public health records and images accessible online
Achieving more using Preservica
Marta says that the benefits of the Preservica system are many. She explains, "The fact that digital preservation, flexible collection management, access and content acquisition, like web-harvesting, are all integrated together with Preservica is a tremendous benefit. This allows me to achieve so much more and focus on my role preserving and providing access to our amazing digital collections rather than worrying about things like server maintenance or having to run lots of different tools and systems"
Marta also comments, "Paradoxically, we are now getting more people coming to the physical Archive itself as a result of all the digital content being made accessible online. Before, people didn't know what we had. Now, researchers and authors who started their research online understand the breadth of our information and they visit us to do further research and view the physical records as well. This all helps to raise our profile and demonstrate the real value of the Archives, which in turn helps us to sustain our funding."
Marta concludes "As well as excellent support and training, the Preservica user community is also a great place to share experiences and learn from other institutions big and small from around the world. The user group meets face-to-face at a national level at the SAA conference (Society of American Archivists) but we also recently ran a very successful local meeting at Preservica's offices in Boston that brought together many pioneering digital archivist and collection mangers from Massachusetts and the New England area. Having a single easy to use application for digital preservation and access, like Preservica, is enabling even the smallest archives to achieve and do so much more."
Visit the Boston City Archives Digital Repository
Discover how Kentucky State Archives are achieving great things with digital preservation
Discover how the Philadelphia Museum of Art are achieving great things with digital preservation