Press release
Preservica automated SharePoint archiving streamlines governance of critical long-term records and content
Intelligent SharePoint connector enables organizations to cut content ​
"

sprawl" and take control of critical data spread across the enterprise

Boston, MA and Oxford, UK: March 7th 2019: Preservica, market leaders in active digital preservation software, has announced an intelligent SharePoint connector that automates the transfer of critical long-term and permanent records from across the enterprise to Preservica's enterprise-grade cloud archiving and preservation platform for secure retention and access over decades.

Designed for enterprise-scale deployments the intelligent SharePoint connector enables large commercial and government organizations to extend information governance across the full content life-cycle, as well as drive lower operational system costs, reduce content ​"sprawl", and meet compliance and legal needs by ensuring long-term and permanent records can be quickly found, read and trusted when required.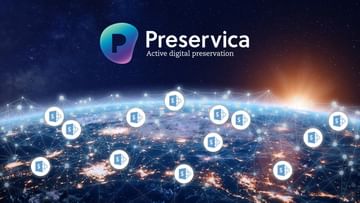 Technology analyst firm Gartner underscored the challenge in a recent report: ​"In many enterprises, an increasingly chaotic ​"sprawl" of content from a growing number of sources makes it difficult for application leaders to implement an effective strategy for the governance and use of content." Gartner, Six Steps to an Effective Content Services Strategy, 2018.
While much of the content held on the often hundreds of SharePoint sites across the enterprise is transient, a significant volume are critical records that need to be retained for years or even decades for legal, compliance or business value needs. Left in SharePoint this vital content is often poorly governed, vulnerable to accidental or malicious deletion or change, format obsolescence, and quickly becomes difficult to find.

The Preservica SharePoint connector uses an intelligent archiving engine to automate the identification and transfer of long-term and permanent content based on user defined fields and metadata. The engine uses an extensible architecture and an API abstraction layer to enable other common Content Services Platforms (CSPs), such as OpenText, Dropbox and Google Drive to be quickly added overtime. The technology can be configured to operate on a continuous basis or used to support one-off content migration projects such as legacy application decommissioning.

Jon Tilbury, CTO and Head of Innovation at Preservica adds ​"Our intelligent connectors and archiving engine are part of the many innovations we plan to launch this year as we build-out against our vision of making long-term active digital preservation a seamless and automated part of the information governance life-cycle. The importance of having an effective solution for the governance of long-term and permanent data has been highlighted in reports by the IGI and AIIM. Our intelligent archiving technology enables organizations to take control of at-risk content spread across enterprise content platforms in a simple and automated way."
The intelligent SharePoint connector can operate on premise or hosted on Preservica's Enterprise Private Cloud archiving and active preservation platform. The Enterprise Private Cloud offering is designed for organizations with strict regulatory, privacy and security requirements and provides dedicated hosting and operations maintained by Preservica, scalable low-cost storage aligned to cloud vendor prices and a 100% data integrity guarantee.
The platform has been designed from the ground-up to tackle the unique challenges of protecting digital information over decades — ensuring data is securely and durably stored, immediately accessible, trustworthy, and automatically transformed into formats that can be read and used by future applications.
Learn more about the intelligent SharePoint connector here
About Preservica
Preservica is changing the way organizations around the world protect and future-proof critical long-term digital information. Available in the cloud (SaaS) or on-premise, our award-winning active digital preservation software has been designed from the ground-up to tackle the unique challenges of ensuring digital information remains accessible and trustworthy over decades.
It's a proven solution that's trusted by major businesses, archives, libraries, museums and government organizations around the world — including the Unilever, Associated Press, John Lewis, Sainsbury Archive, HSBC, UK National Archives and Yale — to name a few.
Visit: pre​ser​vi​ca​.com Twitter: @Preservica
Media Contacts:
Media inquiries
In the UK: For further information, please contact: Edward Clark, eclark@​thecommsco.​com, or call: +44 (0) 203 697 6680
In Canada and the US: For further information, please contact: Maria Doyle, maria@​doylestratcomm.​com, or call: 781−964−3536