Press release
The Art Institute of Chicago chooses Preservica to safeguard vital institutional records
Preservica's active digital preservation platform selected to create new cloud-based institutional archive
Boston, MA and Oxford, UK – April 4, 2018 – The Art Institute of Chicago, one of the oldest and largest art museums in the US, has chosen Preservica's AWS cloud-hosted active digital preservation platform to future-proof its vital corporate records and institutional memory.

Founded in 1879, The Art Institute of Chicago has a permanent collection of nearly 300,000 works of art and over 1.5 million visitors each year. Essential to the functioning of the museum is the large volume of increasingly born-digital institutional records including the minutes and decision making of the Board of Trustees, annual reports and financial statements, and information on the museum's extensive exhibitions, donations, gifts, and artwork acquisitions.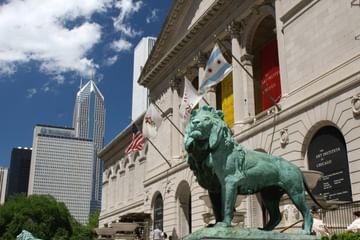 Preservica's active digital preservation software will not only ensure these vital institutional records are safely stored and easily found by museum staff including the administration and legal team, but also maintained in formats that can be read and used by future generations.
"Before Preservica we did not have a comprehensive strategy for preserving our born-digital records," says Alvin Dantes, Digital Initiatives and Technology Librarian at The Art Institute of Chicago. ​"In fact, we were printing out and storing paper records which is not a sustainable or cost-effective solution. Preservica will not only protect our historical records for future generations but also vastly improve access and findability."
"Preservica was the only end-to-end system that combined all the core OAIS requirements for successful long-term digital preservation and secure access into a single application." Dantes added, ​"In-particular, by using a cloud hosted version we were able to get up and running really quickly without being reliant on our IT team. We also like the flexibility Preservica gives us to easily re-arrange collections, create virtual collections, enrich metadata and migrate files to newer formats over time. This allows us to continually respond to changing institutional needs."
The Art Institute of Chicago joins a prestigious group of museum and library customers, including MoMa, The Museum of Fine Arts, Houston (MFAH), The Frick Collection, Yale University Library, and the Philadelphia Museum of Art. Preservica CEO Mike Quinn commented, ​"Preservica is protecting tens of millions of unique digital artifacts and institutional records. We are proud to play a part in supporting the work of the Art Institute of Chicago and look forward to welcoming them to our rapidly growing global user community."
Learn more about digital preservation and access for culture and heritage.
About The Art Institute of Chicago
The Art Institute of Chicago was founded as both a museum and school for the fine arts in 1879. The permanent collection has grown from plaster casts to nearly 300,000 works of art in fields ranging from Chinese bronzes to contemporary design and from textiles to installation art. Together, the School of the Art Institute of Chicago and the museum of the Art Institute of Chicago are now internationally recognized as two of the leading fine arts institutions in the United States. Visit: www​.artic​.edu
About Preservica
Preservica is changing the way organisations around the world protect and future-proof critical long-term digital information. Available on premise or in the cloud (SaaS), our award-winning active digital preservation software has been designed from the ground-up to tackle the unique challenges of ensuring digital information remains accessible and trustworthy over decades. It's a proven solution that's trusted by business, archives, libraries, museums and government organizations around the world — including the UK National Archives, Texas State Library and Archives, MoMA, Yale and HSBC — to name a few. Visit: www​.pre​ser​vi​ca​.com Twitter: @preservica
Contact: In Canada and the US: For further information, please contact: Maria Doyle, maria@​doylestratcomm.​com, or call: 781−964−3536
In the UK: For further information, please contact: Edward Clark, eclark@​thecommsco.​com, or mobile: 07983 507659